Bomb at NW Pakistan police station kills several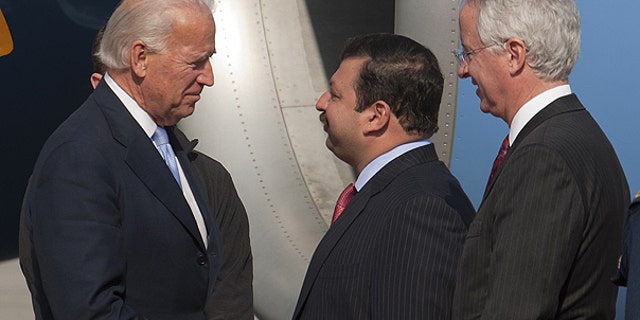 ISLAMABAD – Police say a suicide car bomb has killed several people at a police station in northwest Pakistan.
Police officer Ghulam Hussain says some of the victims of the attack Wednesday were praying at a mosque adjoining the station in Bannu district, which was damaged in the blast.
He was unable to give a precise death toll but said many people were in the mosque.
Islamist militants have carried out scores of attacks on Pakistani police and army targets over the last three years as part of a campaign to topple the country's U.S.-allied government.
THIS IS A BREAKING NEWS UPDATE. Check back soon for further information. AP's earlier story is below.
ISLAMABAD (AP) — Vice President Joe Biden met with Pakistan leaders Wednesday as part of American efforts to get Islamabad to intensify the fight against Islamist militants sheltering along the Afghan border.
Biden's one-day trip comes amid fresh reminders of American's challenges in the unstable, nuclear-armed Islamic country. A security guard with extremist sympathies has confessed to gunning down a liberal governor from the ruling party last week, while the pro-Washington government narrowly avoided collapse when its coalition partners threatened to pull out.
Washington is committed to giving Pakistan $7.5 billion in aid in the coming years to improve the lives of ordinary Pakistanis and show its military and civilian leaders that the U.S. is its long-term friend. The U.S. is also asking Islamabad to step up military efforts against Taliban and al-Qaida militants who use bases in northwest Pakistan to launch attacks on American and NATO troops in neighboring Afghanistan.
Pakistan has undertaken operations in six out of its seven tribal regions close to Afghanistan and lost more than 2,000 soldiers, but has so far not moved into North Waziristan, which remains a haven for militants. Islamabad says its forces are too stretched to attack that region presently — an assessment that some U.S. military officials have publicly agreed with.
During Biden's stop in Afghanistan on Tuesday, the vice president said success there would "require more pressure on the Taliban, from Pakistan's side of the border, than we've been able ... to exert so far."
Biden arrived in Pakistan from Kabul and went straight to the U.S Embassy in Islamabad in a tightly guarded convoy. He then met President Asif Ali Zardari and was due to talk with the prime minister and army chief later.
U.S. policy makers regard Pakistan as of equal, if not more importance, to America's long-term strategic interests than Afghanistan. But Washington's options are limited in dealing with the country and its militants. Sending ground troops into the northwest would trigger public outrage, empower the Islamists and destabilize the country, a risky proposition given Islamabad's nuclear weapons.
While encouraging the Pakistani military to take action in the northwest, the CIA has stepped up its use of drone strikes to target militants in the borderlands over the last year. Earlier Wednesday, one such strike in the North Waziristan region killed four people, intelligence officials said on condition of anonymity because they were not authorized to talk to the media.
Also in the northwest, two roadside bombs exploded close to a van carrying school children and female teachers, killing two of the teachers, said police officer Tajmir Shah. Seven others were wounded in the blast in a village close to the main city of Peshawar. It was unclear why — or indeed if — the van was targeted.