Boko Haram uses loans to attract new members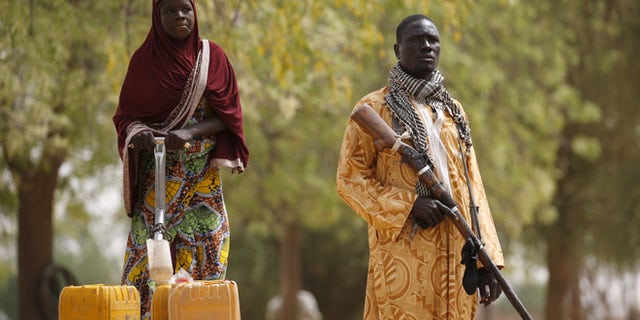 NEWYou can now listen to Fox News articles!
The Boko Haram terror group in Nigeria reportedly has chosen to offer cash loans in its effort to boost recruitment.
The Guardian reported Tuesday that the group has been facing a crackdown by government forces and started turning to the poor to provide intelligence. Boko Haram reportedly offers money along with the ability to "work for Allah."
A fish trader identified as Ibrahim told the newspaper that members of the terror group offered him nearly $7,000 to join the group and provide intelligence on security forces in the area.
"Immediately I knew that I had to accept the loans because they would kill me if I refused it, having heard what they do to people who refuse," Ibrahim said. He said the militants never told him when he'd have to repay the cash, but that it was illegal under Islamic law to charge interest.
The paper spoke to a United Nations security expert who said the group has been using the loan program for about four years after the military crackdown. The group also resorted to kidnappings and robberies to raise funding during that time.
Boko Haram aims to create an Islamic caliphate in Nigeria, Africa's biggest oil producer, whose 170 million people are divided almost equally between Christians mainly in the south and Muslims in the north. Members of Boko Haram said they kidnapped hundreds of Nigerian schoolgirls in April 2014, and the fate of many of those girls remained unclear.
Andrew Walker, a security expert, told the paper that the loan program may be effective as an immediate fix, but he questioned its long-term feasibility.
"How much money are they giving out, how are they giving out, how are they getting it and how long can they keep it up?"