Body of third indigenous activist in Honduras found murdered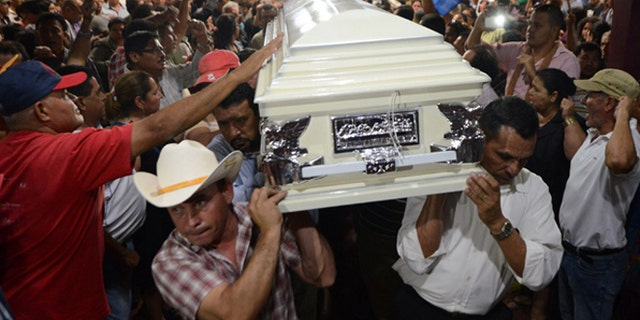 NEWYou can now listen to Fox News articles!
An indigenous activist in Honduras has been founded murdered. Identified as Yaneth Urquia Urquia, the woman was discovered with a severe head injury near a garbage dump.
Urquia was a member of the Council of Popular and Indigenous Organization of Honduras, or COPINH, founded by Berta Caceres, who was assassinated in March.
According to Voz Lenca, the communications division of COPINH, Urquia was an active member of the group and fought against the building of hydroelectric power plants on indigenous lands.
According to a post on the group's Facebook page the woman was killed with a deadly weapon and found in a red car near a municipal garbage dump in Marcala, in the western department of La Paz.
Uriquia's death comes four months after Berta Caceres, founder of COPINH, was assassinated in her home.
Four people have been arrested in connection with her death, including both former and current members of the Honduras military.
Caceres was an environmental activist fighting against the hydroelectric dams on indigenous land.
Less than a month after Caceres' murder, two men shot and killed Nelson Garcia -- a colleague of Caceres -- after he returned home from helping move evicted Indians who were recently removed from land they were squatting on not far from his home in the hamlet of Rio Chiquito, 120 miles north of Tegucigalpa.
Police said in a statement that Garcia's death was unrelated to the slaying of Caceres and called it an "isolated" act of violence.
In 2013, Tomas Garcia was shot dead at a peaceful protest -- he was another leader of COPINH.