Bodies of 17 missing miners found in Venezuela, cause of massacre still unknown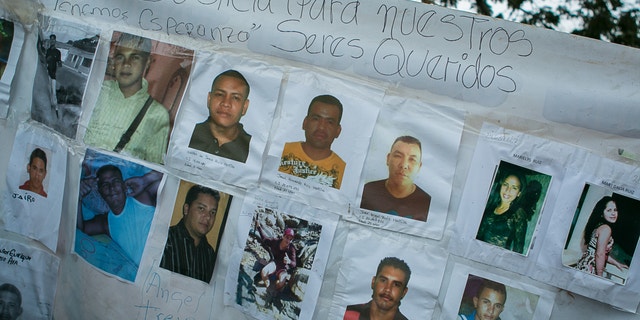 NEWYou can now listen to Fox News articles!
Searchers in southeastern Venezuela have recovered the remains of 17 people belonging to a group of over 20 missing miners believed to have been killed by a gang seeking control over a wildcat gold claim, government officials said.
Police investigating the massacre made the grisly discovery in Tumeremo, an area of jungle in Bolivar state near where the miners disappeared a week ago, Attorney General Luisa Ortega said Monday night, according to El Nacional newspaper.
She said the search "has been concluded."
Ombudsman Tarek William Saab was planning to travel to the area early Tuesday to provide details of the case.
The massacre last week rocked Venezuelans accustomed to morbid tales of violence in a country with one of the world's highest homicide rates and widespread impunity. Fearing unrest after the state's governor denied the killings took place and outraged relatives blocked a highway to Brazil in protest, President Nicolas Maduro's government dispatched more than 1,000 soldiers and Cabinet officials to search for the missing miners.
The circumstances behind the massacre remain unclear. Ortega said she believes 21 people were killed by a criminal gang led by an Ecuadorian. But opposition politicians and relatives who have said they witnessed the attack put the number at 28 and contend local officials were involved, a claim the government denies.
One person linked to the gang's ringleader has already been taken into custody and several more arrests are expected soon, Ortega said.
Venezuelan Ombudsman Tarek William Saab said the 14 bodies were found wrapped in black plastic bags and dumped in a mass grave. The remains had not yet been identified, he said.
Family members greeted the news with resignation mixed with anguish.
"This is very painful news for us after 12 days of suffering," Yosleida Montilla, a mother of three of the disappeared miners, told The Associated Press.
Authorities identified three suspects, one of whom is already in custody, she said.
"We've already captured one," she said. "The person who was captured is named Rosa Saida Gil Salazar," a woman who, according to the investigation, is the lieutenant of Jamilton Ulloa Suarez, alias "El Topo," an Ecuadorian living in Venezuela who is being sought throughout the country.
AP and EFE contributed to this report.