Bleak outlook for plans to help Sons of Iraq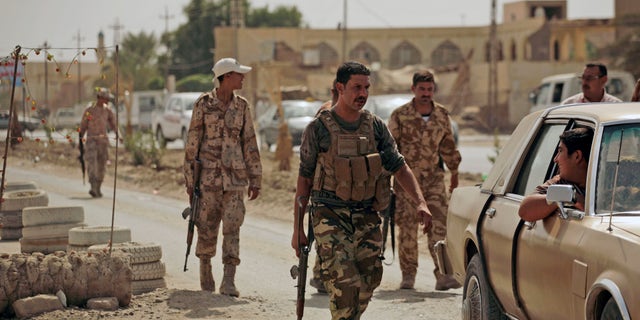 BAGHDAD – A broad plan to absorb Sunni Muslim militiamen who battled al-Qaida in Iraq into national security forces or government jobs is at risk of being derailed by lukewarm political support and limited funding, officials say.
Integrating the militias, known as the Sons of Iraq or Awakening Councils, is a key concern for Iraq's Sunni minority, which feels it has been squeezed out of power by the Shiite majority and ignored despite its role in fighting the insurgency. Shiite Prime Minister Nouri al-Maliki is already struggling to show he can create an inclu sive government after barely garnering enough support to keep his job.
Iraqi military officials put together a 17-point draft plan, obtained by The Associated Press, that is by far the broadest proposal yet to help the estimated 51,900 Sunni fighters who sided with U.S. forces at the height of Iraq's insurgency. Their support created a crucial turning point in the war.
The plan, dated Sept. 5, has the support of U.S. military who want to see the Sons of Iraq taken care of before American troops leave the country by the end of 2011.
Among the provisions are plans for nearly 24,000 fighters — those with high-school educations — to be placed in the Iraqi military or police forces. Those with university degrees would be given their pick of federal ministry jobs, while those with only elementary school education would be offered jobs in local or provincial governments.
But al-Maliki's advisers say local officials and the Shiite-dominated Interior Ministry are pushing back, claiming they don't have the budgets to hire the thousands of new personnel. As a result, the advisers say, the plan won't work.
"This plan was written by someone who is dreaming, and doesn't know the real situation on the ground," said Zuhair al-Chalabi, the head of a federal committee that al-Maliki formed to integrate the militiamen. "We have met with governors, and some of them don't even want to hear the name Sons of Iraq."
Al-Chalabi said that the prime minister "knows about all these problems and obstacles, and he is still committed to resolving them."
The slowness in dealing with the militias has been a sore spot for Sunnis.
Al-Maliki's political party fell shy of winning the most seats in March parliamentary elections, bested by the secular Iraqiya coalition that promised Sunnis they would be represented fairly in the government and security forces. Still, al-Maliki was able to preserve his spot by cobbling together a Shiite-led coalition.
Nothing has been done to advance the militiamen's integration since the vote, and Sons of Iraq militiamen continue to be targeted almost daily by Sunni insurgents who call them traitors. Iraqi intelligence officials believe a small number of militiamen — about a half of 1 percent — have rejoined al-Qaida or other extremist groups that pay them more reliably than the government.
The fear among American officials is that if the door of integration appears totally shut, more will turn to the insurgency.
"When al-Maliki speaks, he supports the Sahwa, but where are his actions?" one militia leader, Sheik Khalid Fleh Hassan, said, using the Arabic word for the Awakening Councils.
"Our hope was that the Americans would put pressure on the government, but it hasn't happened," said Hassan, who heads the militia in the predominantly Sunni city of Samarra, 60 miles (95 kilometers) north of Baghdad. "We think the government wants to eliminate the Sahwa."
For the time being, Sons of Iraq around the country man security checkpoints, earning a salary from the government until they can be integrated into permanent jobs. But they receive little other official support and continue to buy their own guns, uniforms and other supplies.
More importantly, the fighters say, they still are viewed with suspicion by Shiite-dominated security forces who accuse them of being insurgents. The new plan would try to defuse those tensions by creating a committee to review charges against any Sons of Iraq to ensure they are not being falsely linked to insurgents or terror cases.
The draft recommendations are being considered by Iraq's National Security Council. Al-Chalabi said he has been working on plans that include at least some of the new proposals for almost two years.
Al-Chalabi said the federal government has budgeted $200 million to pay militiamen's salaries next year — boosting salaries for Sons of Iraq across the country to the $300 a month that its members in Baghdad receive. Equalizing the pay is among the new recommendations.
However, it's not clear if the 2011 budget will pay for Sons of Iraq to be placed in local government jobs, and there is no guarantee that federal funding will be available to give to provinces in the years ahead.
An estimated 30,000 militia members already have been hired at government ministries — mostly in administrative, janitorial or other low-skill jobs that the fighters scorn as beneath them. Another 10,000 of the fighters in Baghdad have joined the Interior Ministry's security forces, while some others have been taken into the army.
But al-Chalabi said none of the remaining Sons of Iraq will join the military. A proposal to send another 10,300 fighters — 20 percent of the 51,900 remaining — to the Interior Ministry's police forces has stalled over the ministry's claims that it can't afford their salaries.
Provincial officials, too, complain that employing the Sons of Iraq is effectively an unfunded mandate by the federal government.
In Salahuddin province, north of Baghdad, for example, the plan calls for 6,000 militiamen to be employed by the provincial government. But Deputy Gov. Ahmed Jubeir said there's no money to pay them.
"We already suffer from budget shortages and the funds we have are barely enough to run services and welfare projects," said Jubeir, a Sunni. "The central government should pay for hiring Sahwa people."
Asked this week about the Sahwa's future, U.S. Army Lt. Gen. Robert Cone stopped short of predicting a bleak outlook, but said "there are still important steps to be taken — and we're watching that progress very carefully."
The fighters "stepped up for Iraq when they were needed and supported the government," Cone, operations commander for American forces in Iraq, told reporters. "And now (they) are in a position where they need to be integrated."