Blast in Chinese port city kills at least 2, injures 30
At least two people were killed and another 30 people were injured on Sunday after an explosion in a port city south of Shanghai, China knocked down several buildings, the Chinese government and media reports stated.
The blast occurred in Ningbo, one of China's busiest ports, about 8:55 a.m., the official Xinhua News Agency and other outlets reported. The incident is still under investigation, but local firefighters located the origin of the explosion to a hole in the ground under a toilet. It's also unclear if it happened inside a building, though China's official Xinhua News Agency claimed the explosion happened in a factory.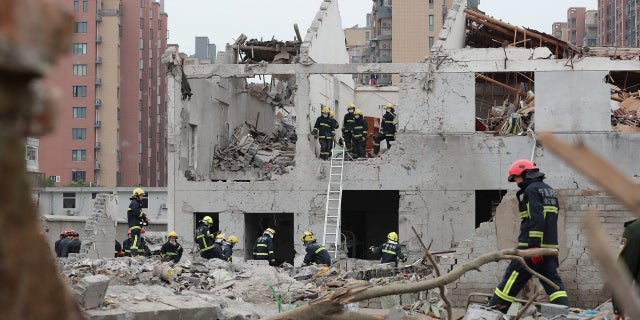 Two people were killed, the district office confirmed on its social media account. At least two of the 30 people hurt also suffered serious injuries. Many of those injured were taken to a nearby hospital, according to Huanqiu.com, a website operated by the Global Times newspaper. Further details on the two people killed and those injured were not immediately available.
Photos posted on local news sites showed an injured woman being carried away on a man's back and what appeared to be the body of man lying in the debris of a wrecked building. The explosion also knocked down nearby residential buildings that were vacant and in the process of being demolished, according to Huanqiu.com. But some people may have been in the area collecting scrap for recycling, the site added. Another video showed a white cloud of smoke pluming into the air while broken glass on the ground was seen in pictures.
Onlookers said damage to a gas pipe during demolition work might have been the cause. However, the Ningbo gas company told China Youth Daily there were no gas lines in the vicinity.
China has a history of deadly fires and industrial accidents that have often been the result of negligence. In 2015, improperly stored chemicals were to blame for an explosion that killed at least 173 people in Tianjin, a port east of Beijing.
Authorities have increased safety measures, resulting in some success, but companies are struggling to keep up with the rapid pace of industrial growth and often end up cutting corners.
The Associated Press contributed to this report.