Berlusconi: Latin lover brought up short by the law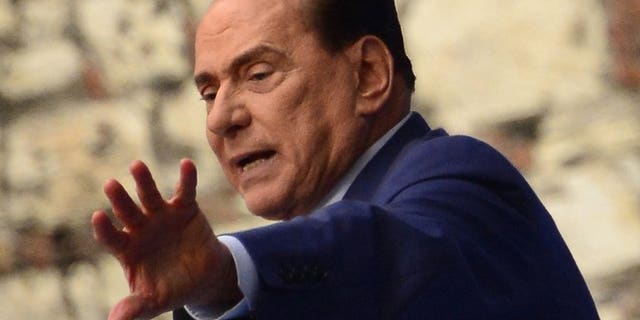 ROME (AFP) – Italy's Silvio Berlusconi, who was sentenced to seven years in prison on Monday for paying an underage prostitute for sex and abuse of power, is a flamboyant billionaire whose taste for young women may spell his political demise.
The wizard politician will not face prison until all appeals have been exhausted, but the sentence will be taken as proof to many that Berlusconi's penchant for buxom babes will likely be his undoing.
The 76-year-old's troubles with women have been splashed across the front pages of Italy's dailies since 2006, when his second wife Veronica Lario publicly asked for a divorce in an open letter.
In it, she described Berlusconi as "a dragon to whom young virgins offer themselves," accused him of being "unwell" and said she could not stay with a man "who frequents minors."
In December 2012, a court ordered him to pay her three million euros ($3.92 million) a month in alimony.
In 2009, call girl Patrizia D'Addario spilt to the press the raunchy details of a night she had spent in 2008 with Berlusconi and published the book "Take Your Pleasure, Prime Minister".
The media magnate, who has often boasted of his penchant for young women, claims he did not have sex with the woman at the centre of his latest legal troubles, Moroccan-born Karima El-Mahroug, a busty glamour girl nicknamed "Ruby the Heart Stealer".
But investigators uncovered details of vast sums that Berlusconi has lavished on young escorts.
The three-time premier has shrugged off the scandals to score political triumphs time and again and recently came a close second in general elections despite the lurid allegations surrounding him.
Berlusconi burst on to the political scene in the early 1990s, when his promises of a fresh start after a period of political corruption and scandal made an immediate impact -- helped by his dominance of the airwaves.
He was born in 1936, in Italy's economic capital Milan, to a doting bank employee father and a housewife mother who has always staunchly defended her son's virtues.
A charmer with slick hair and a winning smile, the young Berlusconi was a born entertainer. A huge fan of singer Nat King Cole, he played double bass and entertained the crowd with jokes in clubs during breaks from studying law.
He also had a brief stint as a cruise-ship crooner before launching a lucrative career in the booming construction sector.
In 1978 Berlusconi set up Fininvest, a holding company which grew to include big names such as Mediaset -- with three national television channels -- and AC Milan, one of the world's leading football clubs.
Berlusconi's political success and growing influence as a broadcasting tycoon were closely entwined: the media magnate wooed millions of Italians, from disgruntled housewives to sports fans, through his vast television empire.
His daring and splashy political debut in 1993 with a new party called Forza Italia ("Go Italy") -- named after a football chant -- was unprecedented in tradition-bound Italy, and won him widespread popular support.
His first stint as prime minister in 1994 lasted only a few months.
In 2001 however, he was elected again after a media campaign which included sending a book boasting of his achievements to 15 million Italian homes.
Nicknamed "Il Cavaliere" ("The Knight"), the media magnate remained in power until 2006 -- the longest premiership in the history of post-war Italy -- and as a divided left floundered, he was voted back in for a third time in 2008.
Italy's richest person between 1996 and 2008 -- he owns villas around the world -- the party-loving premier's clownish behaviour may have amused some Italians, but it has on several occasions got him into hot water on the international scene.
He has become notorious for his off-colour jokes and diplomatic gaffes, on one occasion likening a German Euro-MP to a Nazi and describing US President Barack Obama as "suntanned".
The centre-right Berlusconi was finally ousted from the premiership in 2011 to the relief of his critics, who said his leadership had been disastrous for the economy.
But his many legal woes have kept him in the headlines.
A Milan court last month upheld his conviction for tax fraud, confirming the punishment of a year in prison and a five-year ban from public office which is frozen pending a second appeal.
Prosecutors in Naples have also requested a trial against Berlusconi on allegations that he bribed a left-wing senator with three million euros to join his party and topple a past centre-left cabinet.
Despite some initial convictions for fraud, all but one of many legal cases against him have so far been won on appeal. Others have simply fallen foul of the statute of limitations in Italy's notoriously slow-moving legal system.