Berlusconi: I'm too old for so much sex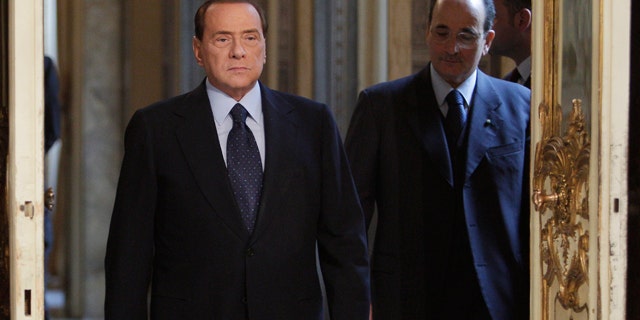 ROME – Premier Silvio Berlusconi has sat down with the enemy, telling an opposition newspaper that he is too old to have had all the sexual encounters he is accused of by Italian prosecutors.
The 74-year-old faces trial in Milan next month over charges he paid for sex with a Moroccan minor and used his influence to try cover it up. In court documents, prosecutors have identified 33 women, including the Moroccan teenager, who allegedly prostituted themselves during parties at Berlusconi's villa near Milan.
"Even though I am a little brat ... 33 girls in two months seems like too much even for a 30 year old," the premier said in an interview published Wednesday in La Repubblica, a leftist newspaper that has led a campaign for his resignation in the wake of the scandal.
"It's too much for anybody," Berlusconi is quoted as saying. He insisted he has a girlfriend, whose identity is secret, who was always with him and would not have allowed what the prosecutors allege.
"She would have ripped my eyes out," he said.
Berlusconi spoke to La Repubblica a few hours after Milan prosecutors notified three of his associates that an investigation into their alleged role in the scandal is closed. The move paves the way for the prosecutors' request for an indictment against the three, accused of procuring women for the premier and, for one suspect, handling payments.
Berlusconi has already been indicted in the case and his trial opens on April 6. The premier said he plans to attend all hearings, and to appear on TV to defend himself and the women involved.
The prosecutor's document details how the soirees at Berlusconi's villa allegedly took place: They started with dinner; continued with "bunga bunga" parties in a room used as a disco, in which the women, sometimes masked, performed a striptease or an erotic dance "touching each other mutually, touching or being touched in their intimate areas by Silvio Berlusconi;" and culminated with Berlusconi's choice of a sex partner, or partners.
Berlusconi told Repubblica "I could not believe my eyes" when he read the reports. He said "the girls were just shaking a leg in the disco — alone, as I've never liked dancing."
The premier also rejected allegations that money changed hands via bank transfers, saying, "How can it be that someone pays for a sexual performance via bank transfer?"
He said he was just trying to help people in need, taking care of everything from dentist and surgery bills to university fees.
Paying for sex is not a crime in Italy, but it is if the prostitute is under the age of 18.
The Moroccan teen, Karima el-Mahroug, known by her nickname Ruby, turned 18 in November, but was a minor at the time of the alleged encounters.
Berlusconi is also accused of abusing his influence when he called police in May to get Ruby out of custody in Milan, where she had been held for an unrelated theft.
The prosecutors say the premier sought to keep his sexual relation with the girl secret. Berlusconi has said he intervened because he believed Ruby was the niece of now ousted Egyptian President Hosni Mubarak and wanted to prevent a diplomatic incident.
"I can swear that a week before, I had spoken with Mubarak about this girl for at least 15 minutes," Berlusconi said in the interview. "The interpreters and fellow dinner participants can confirm it."
He insisted he only sought information and did not exert any pressure.