Berlin evacuates homes, diverts trains to defuse WWII bomb found inside building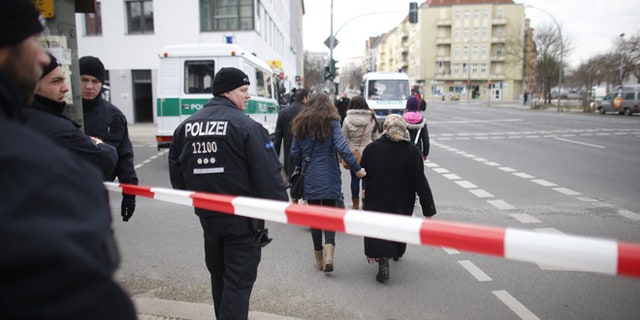 BERLIN – A World War II bomb was defused near Berlin's main railway station on Wednesday after trains were diverted, nearby houses evacuated and flights to the city's main airport briefly disrupted.
The 220-pound bomb was found Tuesday evening at a building site near the station, which stands in a relatively sparsely populated area near what used to be the border between West and East Berlin.
Experts decided to defuse the Soviet bomb on the spot, a former freight depot. They evacuated people from a few dozen nearby buildings and diverted trains heading north toward Hamburg. Most trains, however, were able to continue running undisrupted.
As a precaution, authorities also decided briefly to stop planes landing at the city's Tegel airport, a few miles away, while the bomb was defused -- an operation that took half an hour. It wasn't immediately clear how many flights were delayed.
Some 150 people who lived nearby waited at a nearby school while the bomb was defused, police spokesman Jens Berger said.
Allied airplanes dropped huge quantities of ordnance on Germany during World War II in an effort to cripple the Nazi war machine.
Tens of thousands of unexploded bombs are believed still to be in the ground, 68 years after the end of the war. The explosives are usually defused or detonated by experts without causing injuries.
The bomb defused Wednesday, though it was in a prominent location, wasn't particularly large or disruptive by German standards.
Bomb disposal efforts sometimes require thousands of people to be evacuated as a precaution. In 2011, a 1.8-ton bomb was discovered in the Rhine river in Koblenz and was defused after 45,000 residents were evacuated -- nearly half the city's population.
Last year, the detonation of a wartime bomb in Munich caused fires in several nearby buildings that had been evacuated.