Belgium says 31 people in 3 different countries detained in $50 million diamond heist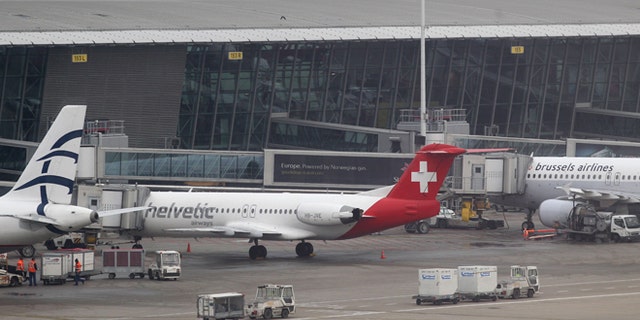 BRUSSELS – Police on Wednesday claimed a major breakthrough in their investigation of a spectacular $50 million diamond heist, detaining 31 people in a three-nation sweep some three months after robbers pulled off the theft with clockwork precision at Brussels Airport
A Frenchman who is believed to have been one of the actual robbers was detained in France, while six people were detained in Switzerland and 24 in Belgium.
What's more, police say they have proof that diamonds found in Switzerland were part of the cache that was spirited away in the brazen Feb. 18 robbery that ranks among the biggest diamond heists of recent times.
Suspects in France and Switzerland were detained on Tuesday, and the following day Belgian police carried out a massive early-morning operation, with 250 police involved in 40 house searches.
"In Switzerland, we have found diamonds that we can already say are coming from the heist, and in Belgium large amounts of money have been found. And the investigation is still ongoing," said Jean-Marc Meilleur, a spokesman for the Brussels prosecutor's office.
Meilleur was scant on detail, yielding no clues how police got on the trail of the suspects. Authorities were expected to announce later Wednesday how many of the detainees would be charged and arrested.
It was the first breakthrough in a robbery that many had started comparing to an "Ocean's Eleven"-type Hollywood script for its clinically clean execution during which no one was injured.
On a cold winter evening, the diamonds had been loaded on a plane bound for Zurich when robbers, dressed in dark police clothing and hoods, drove through a hole they had cut in the airport fence in two black cars with blue police lights flashing. They drove onto the tarmac, approached the plane, brandished machine guns, offloaded the diamonds, then made their getaway in an operation that barely took five minutes. Later that night, investigators found the charred remains of a van most likely used in the heist, but little else.
The stolen parcels contained both rough and polished stones. The trail ran dry until the surprise announcement on Wednesday.
Meilleur said that the man held in France is suspected to be one of the robbers. "This person has a very heavy judicial background in France and his extradition to Belgium has been requested."
Belgian authorities said that about 10 of the 24 people detained in Belgium were known criminals. The suspects ranged in age from 30 to 50, they said.