Belarus protest draws 400 despite main organizer's arrest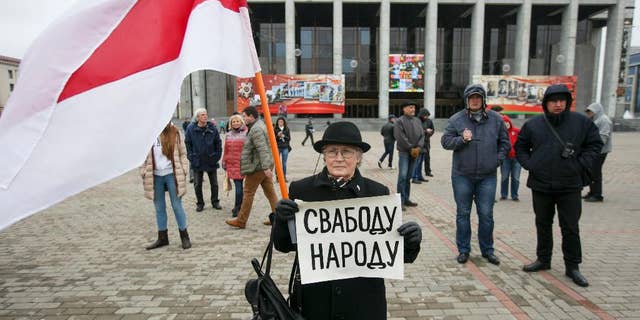 MINSK, Belarus – An opposition protest in Belarus' capital has drawn about 400 people even though its main organizer was arrested over the weekend.
The government had forbidden Monday's protest march in Minsk, but police allowed it to go ahead peacefully.
Nikolai Statkevich, one of the most prominent figures in Belarus' beleaguered opposition, was arrested on Saturday. His wife says police told her he would be jailed for five days.
The rights organization Vesna says other activists also were arrested to prevent them from participating.
The protesters marched through central Minsk calling for the government to step down and for free elections to be held. They lit flares and carried the banned white, red and white-striped flag that represents a free Belarus.
Belarus has been led since 1994 since authoritarian President Alexander Lukashenko.