Before Syria talks, Kerry visits Rwanda's genocide memorial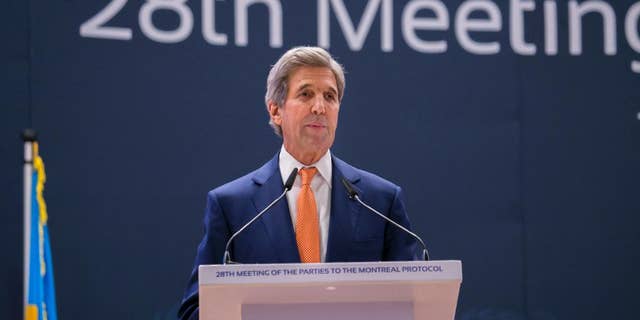 KIGALI, Rwanda – There are no names, no stories on the embankment where a quarter-million Rwandans are buried in a mass grave, memorialized by a simple word: "Remembrance."
But as U.S. Secretary of State John Kerry on Friday bowed his head at the Kigali memorial for victims of this African nation's 1994 genocide, it was impossible not to juxtapose the many declarations of "Never Again" with the reality of mass killings persisting to this day, sometimes unpunished and undeterred by the United States.
Kerry toured the bleak reminder of Rwanda's 100 days of absolute carnage just hours before he was scheduled to depart for a new round of negotiations on Syria, today's worst tragedy.
Among the diplomats he planned to meet was the foreign minister of Russia, a country he accused of committing war crimes in Syria only last week. And his plan? Unclear, but it revolved around another cease-fire push after several previous schemes failed, and no suggestion of accountability for Syria's Russian-backed president, Bashar Assad, whom the U.S. blames for the preponderance of deaths in the Arab country's civil war.
For foreign policy veterans of the 1990s, many of whom now hold senior positions in the Obama administration, Rwanda was supposed to be the ultimate cautionary tale. Washington did not intervene as radical Hutus slaughtered an estimated 800,000 Tutsis and moderate Hutus over a three-month orgy of killing that only ended with Tutsi rebels ousting the government.
While the U.S. feared a repeat of Somalia, when slain Americans were dragged through the streets, President Bill Clinton would later express his regret for the inaction. And a generation of national security leaders would vow to do all they could to prevent a repeat.
In Rwanda's capital, Kerry took part in a moment of silence behind a solitary bouquet of white roses. He then signed a book in front of the memorial's museum.
"A beautiful final resting place created out of a horrendous tragedy," he wrote, praising efforts toward "prevention and healing."
Kerry then visited the exhibitions that trace Rwanda's history from colonialism and the introduction of the Hutu and Tutsi classifications. They end with the devastating result of the divisions that were created, illustrated in hundreds of photos of the massacred, and rows of skulls and bones assembled in a silent, black room.
Unlike in Rwanda, the United States hasn't declared Assad's military operations against Sunni opposition groups and civilian neighborhoods "genocide."
But it accuses Syria's government of widespread torture, chemical weapons attacks, indiscriminate killings of civilians and massacres. It has extended charges of war crimes to Russia, its would-be partner in peace, whose air force has fought alongside Assad's military for the last year and is credited with shoring up its power.
In Syria on Friday, residents of opposition-held eastern Aleppo woke up to a fresh wave of airstrikes and clashes between government forces and rebels. Dozens of people have been killed in the past week, and the approximate death toll of 500,000 in the five-year civil war is double what the Rwandans suffered.
In an interview with a Russian media outlet, Assad said he intended to recapture the remaining rebel-held districts of the city outside his control. A military victory in Aleppo, he said, would provide the Syrian army a "springboard" from which to liberate other areas of the country.
"You have to keep cleaning this area and to push the terrorists to Turkey to go back to where they came from, or to kill them," he told Komsomolskaya Pravda. "There's no other option."
Despite its rhetorical escalation, the United States doesn't seem to have an answer. Earlier this month, Kerry announced he was cutting U.S.-Russian bilateral engagement on Syria, ending discussions on a proposed military partnership between the former Cold War foes against Islamic State and al-Qaida militants in the country.
But any talk of a Plan B to stop Syria's civil war has fizzled quickly. President Barack Obama and the Pentagon have made clear their opposition to any U.S. military strikes against Assad's military. And sanctions on Moscow are seen as an unlikely step, given their limited impact after Russia's annexation of Ukraine's Crimea territory in 2014 and the limited appetite among America's European partners for further action.
That leaves Kerry returning to the negotiating table with Russian Foreign Minister Sergey Lavrov, only now in what the U.S. calls a "multilateral" format. They'll be joined in Lausanne, Switzerland, by the top diplomats of Saudi Arabia, Turkey, Qatar and Iran, which also is backing Assad militarily.