Beauty-Obsessed Venezuelans Dealing With Another Shortage: Personal Hygiene Products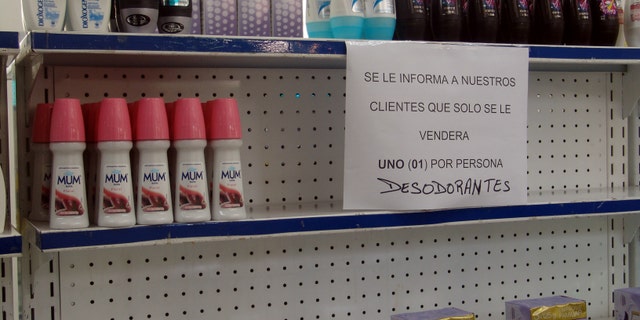 NEWYou can now listen to Fox News articles!
CARACAS, VENEZUELA – It's something many women take for granted, while others might dismiss it as frivolous. But for Ana María Matute, a Venezuelan journalist, it was like being tossed a life preserver after falling off a boat.
"My daughter found it for me!" Matute tweeted along with a picture of a bottle of nail polish remover.
Venezuela, a country that takes great pride in its looks, is dealing with an issue that has the country in a major tizzy – shortages in beauty products. That means women and men so accustomed to looking their best are now having to do without shampoo, cosmetics and, hold your breath, even deodorant.
Beauty is such serious business in Venezuela that beauty pageants are often the country's most watched TV shows. Last year, the research firm Kantar Media TGI released a study, "The Beauty Market in Latin America" showing that Venezuela leads all of Latin America in cosmetic consumption.
That's what makes the current situation, at least for many Venezuelans, so dire.
"You can't buy what you want," said José Alvarez, a chauffeur. "I haven't been able to find any shampoo."
Shortages in Venezuela have been growing steadily during the last decade. But since February of last year, the cash-strapped government has been dealing with all sorts of scarcities – from staples like milk to medical supplies – because the country has put controls on the purchase of hard currency. The problem has gotten worse with the Venezuelan Central Bank Scarcity Index surging and hovering at more than 20 percent.
And while certain shortages have been more critical – like diapers and coffins – Venezuelans are still taking the beauty supply crisis seriously.
Shelves in drug stores are virtually empty. Items like nail polish and baby wipes are hard to come by.
"There used to be up to 87 different kinds of retail packaging of shampoos available from several brands and now there are less than 10," said Roberto León Parilli, president of the Venezuelan Alliance of Users and Consumers (ANAUCO). "Another good example are deodorants. Currently in most shops you can find only one kind of product which comes with a fragrance for ladies, though many men are using it because they can't get a gentleman's product."
Scarcity reached 29.4% on goods for personal care last March, according to the latest official data available from Venezuelan Central Bank.
Francisco Allen, chief of the Economic Analysis Unit of Datanalisis, a consulting firm, warns that the Venezuelan Central Bank reports are based on an absolute lack of the products.
"If the Scarcity Index shows a 30 percent for a given product it means that in 30 out of a 100 shops you can't find it in any of its packaging or brands," he said.
But cold statistics translate into a virtual hell for daily consumers.
"I can't find wet wipes or baby powder for my child. Even though you work hard and earn good money, you can't have a normal life because after leaving the office you have to spend the rest of your day waiting in line on supermarkets trying to buy scarce products," Lelys, an advertising executive interviewed while doing her shopping who asked not to be identified by her full name, told Fox News Latino.
Shampoo is one of the products that has become scarcer, according to ANAUCO.
Jesús Guillén, a sales clerk in a drugstore in the neighborhood of Altamira in east Caracas, has seen the shortage problem evolve on a daily basis.
"This year things have gotten pretty ugly. We have had supply problems with deodorants, shampoos, sun protectors, body lotions. Currently we have neither diapers nor any kind of products for kids."
Abelardo Elizondo, a drugstore customer who was shopping near Caracas finds the scarcity situation annoying.
"I work as a motorcycle messenger," he said, "so I like to use wet wipes to refresh myself, but nowadays I can only find a cheap version."