BBC sports broadcaster fired after admitting 14 indecent assaults on young girls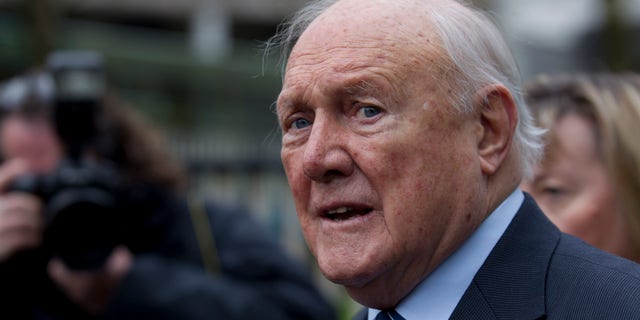 LONDON – BBC broadcaster Stuart Hall has pleaded guilty to 14 indecent assaults on young girls, prosecutors said Thursday.
The 83-year-old sports broadcaster was arrested in January for questioning about alleged crimes committed between 1967 and 1986.
Hall admitted his guilt in court in mid-April but the information could not be made public for legal reasons until Thursday, when reporting restrictions on the case were lifted.
Hall's lawyer Crispin Aylett said Hall is "sorry for what he has done" and wishes to apologize to his victims.
"He is only too aware his disgrace is complete," Aylett said.
Prosecutor Nazir Afzal said Hall was "an opportunistic predator" who was prosecuted because "the evidence of the victims clearly established a pattern of behavior that was unlawful and for which no innocent explanation could be offered."
He said the victims did not know each other and that nearly two decades separated the first and last assaults. He said all the victims, including a 9-year-old girl, "provided strikingly similar accounts."
The prosecutor said one victim who claimed to have been raped by Hall decided not to give evidence in the case in light of the guilty pleas that Hall has already entered.
"We have concluded that it would not be in the public interest to take steps to make her give evidence in court," Afzal said. "As such, we will not be proceeding with this charge."
The BBC announced Thursday that Hall will "no longer be contracted by the BBC."
Hall is one of several well-known entertainment and media figures charged with sex crimes committed decades ago. His arrest followed revelations that the late BBC entertainer Jimmy Savile was a serial sex abuser.
Hall earlier had denied wrongdoing. He will be sentenced on June 17.