Barcelona terror attack van driver still on the loose, Spanish authorities say
Spanish authorities announced Saturday that the suspected driver of the van that rammed into a crowd of pedestrians in Barcelona Thursday -- killing at least 14 people -- remains on the loose.
Authorities believe Younes Abouyaaqoub, 22, a Moroccan native, was believed to still be at large and was the driver of the van that carried out the vehicle attack in a Barcelona street filled with tourists and shoppers. They also believe the suspect was part of a radicalized terrorist cell that may have been headed by a missing imam.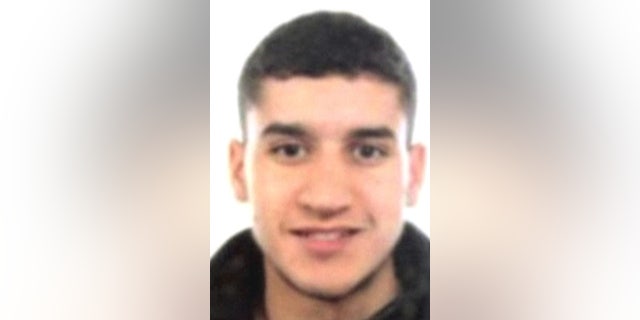 Authorities said they shifted their focus to Moroccan imam Abdelbaki Es Satty, whom they believe died on the eve of the Barcelona attack.
Spanish Interior Minister Juan Ignacio Zoido has declared that the cell was effectively broken after five members were killed, four were in detention and as many as two were killed in a previous explosion. He said there was no new imminent threat of an attack.
The manhunt spanned Spain and southern France, with Spanish police searching nine homes in the northeastern town of Ripoll, where most of the suspects lived, and two buses in northwest Catalonia. Across the Pyrenees, French police carried out extra border checks on people coming from Spain.
HEARTBREAK FOR FAMILY OF AMERICAN KILLED IN SPAIN WHILE CELEBRATING ANNIVERSARY
Police also announced a series of controlled explosions Saturday in the town of Alcanar, south of Barcelona, where the carnage had been planned in a rental house destroyed a day before the attacks by an apparently accidental blast. Authorities had initially written off the Wednesday night incident as a household gas accident, but took another look on Friday and returned on Saturday.
Police initially believed only one person was killed in the blast but said on Saturday that tests were underway to determine if human remains found at the house on Friday were from a second victim.
Police searched Es Satty's home on Friday, but the imam was not there. The president of the mosque where he preached, Ali Yassine, said he has not seen him since June, when he had announced that he was returning to Morocco for three months.
In the attacks that began Thursday afternoon, a white van swerved onto Barcelona's historic Las Ramblas pedestrian promenade, killing 14 people, including one American citizen, and injuring more than 100 as it plowed down unsuspecting tourists and locals. A few hours later, five extremists began mowing down people along the boardwalk in the seaside resort of Cambrils.
One woman died and five others were injured before police shot and killed all five attackers. One Spanish officer killed four of the suspects himself.
Authorities said the two attacks were related and the work of a large terrorist cell that had been plotting for a long time.
CIA WARNED BARCELONA ABOUT TERROR THREAT, REPORT SAYS
The Islamic State claimed responsibility for the Barcelona attack and said the perpetrators were "soldiers of the Islamic State," the terrorist organization's propaganda agency said. On Saturday, ISIS released a new statement also claiming responsibility for the attack in Cambrils.
Spanish authorities had not yet drawn any direct links between ISIS extremists and the suspects in the Spanish attacks.
Police announced that four people were currently in custody and three suspects, including Abouyaaquoub, are on the loose. All the suspects hail from Ripoll, a quiet, upscale town of 10,000 about 100 kilometers (62 miles) north of Barcelona.
A French security official also confirmed Spanish police are looking for a Kangoo utility vehicle rented by suspects in the Barcelona attacks that may have crossed into France.
Spanish hospital officials updated the status of the injured victims of the Barcelona and Cambrils terror attacks Saturday, saying 12 people from the Barcelona attack remain in critical condition while one person remains in serious condition from the Cambrils attack. The rest of the injuries are slightly less serious. King Felipe and Queen Leticia traveled to Barcelona's hospital to visit the injured victims of the attack.
Spanish authorities confirmed they are maintaining the country's current terrorist threat alert at level 4.
Europol, the European Union's law enforcement agency, said on Saturday that they were investigating if Friday's knife attack in Finland that left two people dead and seven others wounded had any ties to the deadly vehicle attacks in Spain.
The Associated Press contributed to this report.