Bangladesh's Grameen Bank may be broken up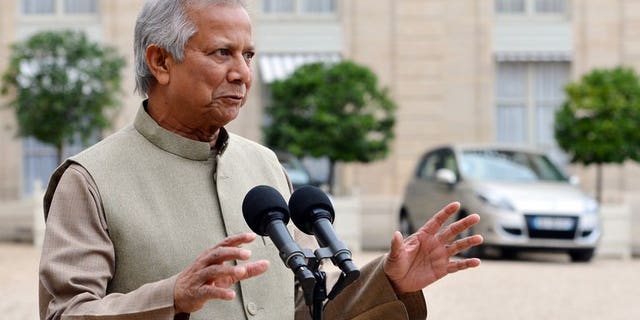 DHAKA (AFP) – Bangladesh's pioneering microlender faces an uncertain future after a commission proposed the government take over or break up the Nobel-award-winning bank, analysts said Tuesday.
The government commission has released a working paper on restructuring Grameen Bank, founded by Nobel Laureate Muhammad Yunus and which has lent more than $11 billion to millions of people -- mainly women -- to help them gain financial independence.
The paper, to be sent to Bangladesh's financial experts for discussion, says Grameen should be broken up into 19 separate organisations with a headquarters maintaining loose control.
It also suggested Grameen's legal status be amended closer to that of a state-owned industrial bank, with the government owning at least 51 percent.
Yunus, who jointly won the Nobel Peace Prize with the bank in 2006 for economic and social development, slammed the recommendations as an "extreme abuse of government power".
"The government takeover of a sound financial institution owned by 8.4 million poor women will be a case of extreme abuse of government power," he said.
"Options offered by the inquiry commission are totally irrelevant and unworkable."
Yunus, who fell out with Prime Minister Sheikh Hasina after talking publicly about going into politics, was officially fired as head of the bank in 2011 for exceeding the mandatory retirement age of 60. He challenged the move in court but lost.
The court ruled that the bank, established in 1983, was a government institution, not a private bank owned by its lenders, as Yunus and his lawyers maintained.
The commission's paper recommends that the "composition of the (bank's) board of directors will be such that it makes sure that the government maintains majority stake."
A deputy director of the commission said the proposals would be discussed by financial experts, including the finance minister, at a meeting in Dhaka on July 2.
"These proposals are not final. The commission will finalise its report after consulting with experts and other people," he told AFP, on condition of anonymity as he is not authorised to speak to media.
Experts fear the proposals, if approved by the government, could jeopardise the future of the bank which has lifted millions of Bangladeshi people out of poverty and empowered women in the deeply conservative country.
"The suggested structures of the bank will not lead to financial sustainability in future. It is likely to make the institution sick," said Baqui Khalily, a professor of finance and the executive director of the Institute of Microfinance.
"Splitting the bank does not help. For example the government broke up its agriculture bank into two and both are not financially viable," he said.