Bangladesh police to interrogate 3 suspects, including British citizen, in bloggers' murders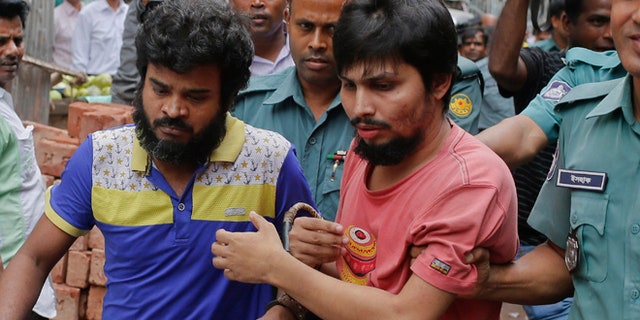 DHAKA, Bangladesh – A court in Bangladesh's capital allowed police on Wednesday to hold three suspects, including a British citizen, for seven days for interrogation in the murders of two secular bloggers.
Magistrate Shahriar Mahmud Adnan made the decision after the men were produced in court, prosecutor Abdullah Abu said. Abu opposed a move by defense lawyers to allow the suspects to be released on bail.
Defense counsel A.L.M. Kamal Uddin said his client, Touhidur Rahman, a British citizen of Bangladeshi origin, was "mentally imbalanced" and had no role in the killings of the bloggers as claimed by security officials.
The three are suspected members of the Ansarullah Bangla Team, a banned Islamic militant group. Bangladesh banned the organization in May after police accused its members of threatening and killing bloggers and writers.
Officials accused Rahman of being the mastermind and financier of the attacks on bloggers Avijit Roy and Ananta Bijoy Das, who were killed earlier this year.
The suspects were arrested Monday night in raids in Dhaka and appeared with authorities at a news briefing Tuesday.
Police did not allow the men to talk to reporters at the briefing.
Police spokesman Mufti Mahmud Khan identified the other suspects as Sadek Ali and Aminul Mollick. He said Ali communicated with Mufti Jasim Rahmani, the alleged head of the militant group.
Rahmani is currently in jail awaiting trial in the murder of another blogger, Ahmed Rajib Haider, in Dhaka in 2013.
Khan said Mollick worked in a passport office and helped members of the group make fake passports so they could travel abroad if necessary.
He said Rahman is an information technology expert who returned to Bangladesh from Britain in either 2011 or 2012.
Khan said the men admitted to police that a team of four or five took part in the killings of Roy, a Bangladesh-born U.S. citizen, and Das.
Roy was a prominent voice against religious extremism and created a network of atheist bloggers at home and abroad. His wife, also a blogger, was injured in the attack, which took place as the couple walked on the campus of Dhaka University.
While Bangladesh is considered a moderate Muslim country and is ruled by secular laws based on British common law, Islamic extremism has made some inroads and there have been several attacks on secular bloggers and writers in recent years.
The bloggers have called for banning religion-based political parties that seek blasphemy laws to protect their faith.