Bangladesh executes Islamist party official for crimes against humanity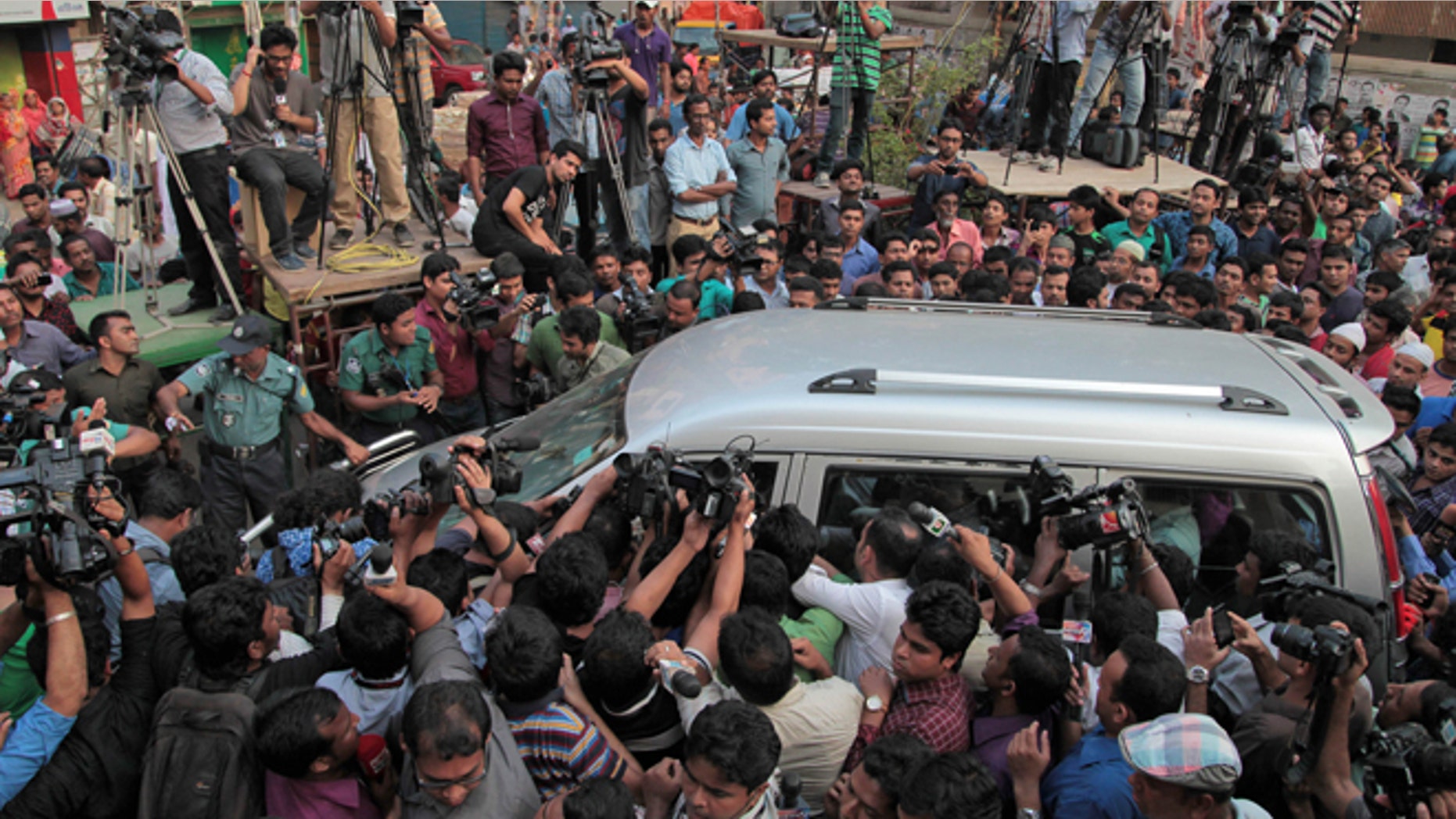 DHAKA, Bangladesh – Authorities in Bangladesh on Saturday executed a senior Islamist party official convicted of crimes against humanity during the country's 1971 independence war against Pakistan, triggering a call for a nationwide general strike by the condemned man's supporters.
One prison official, speaking on condition of anonymity because of the sensitivity of the issue, told The Associated Press that Mohammad Qamaruzzaman was put to death by hanging Saturday night inside the central jail in the capital, Dhaka.
Forman Ali, a senior prison official, told reporters outside the jail that the execution took place at 10:30 p.m.
Prosecutors say Qamaruzzaman, an assistant secretary general of the Jamaat-e-Islami party, headed a militia group that collaborated with the Pakistani army in central Bangladesh in 1971 and was behind the killings of at least 120 unarmed farmers.
Bangladesh blames Pakistani soldiers and local collaborators for the deaths of 3 million people during the nine-month war seeking independence from Pakistan. An estimated 200,000 women were raped and about 10 million people were forced to take shelter in refugee camps in neighboring India.
In a statement late Saturday, Jamaat-e-Islami, Bangladesh's largest Islamist political party, denounced the execution and called for a nationwide general strike for Monday to protest the government's action.
At the same time, hundreds of people who supported the trial and execution rallied in Dhaka. Similar demonstrations were held in other cities and towns.
"We are happy that justice has been delivered finally," said Mohammad Al Masum, a student at Dhaka University, as he joined a procession in Shabagh Square. "I did not see the war but I am sure the families that lost their dear ones will be happy today."
Popular channel, Somoy TV, reported that Qamaruzzman was hanged after performing all legal and religious procedures. Channel 24 said Qamaruzzman's body would be taken for burial to his ancestral home in the Sherpur district in central Bangladesh.
TV footage showed an ambulance, carrying Qamaruzzman's body, leaving the jail under police escort late Saturday night.
The execution took place after Qamaruzzaman refused to seek presidential clemency, paving the way for him to become the second person put to death since tribunals were set up more than four years ago to try suspected war criminals.
Earlier Saturday Junior Home Minister Asaduzzman Khan told reporters that Qamaruzzaman's execution would proceed because he did not seek clemency.
Authorities heightened security in the capital and elsewhere ahead of Saturday's execution.
Members of Qamaruzzaman's family visited him in the afternoon for the last time in Dhaka's central Jail,  his lawyer Shishir Manir said.
On Monday, Bangladesh's Supreme Court rejected Qamaruzzaman's final legal appeal against the death sentence given to him by a special tribunal in May 2013. His only recourse would have been to seek a presidential pardon.
Bangladesh executed another Jamaat-e-Islami assistant secretary, Abdul Quader Mollah, in December 2013 for similar crimes.
Previous war crimes verdicts and Mollah's execution have sparked violence.
On Wednesday, the spokeswoman for the Geneva-based U.N. High Commissioner for Human Rights, Ravina Shamdasani, urged Bangladesh not to carry out the execution, saying that Qamaruzzman's trial did not meet "fair international" standards.
The United States was more guarded in its assessment of the trial, but still urged the government not to proceed with the execution.
"We have seen progress, but still believe that further improvements ...could ensure these proceedings meet domestic and international obligations," said Marie Harf, acting spokesperson of the U.S. State Department, in a statement issued Saturday before the execution took place.  "Until these obligations can be consistently met, it is best not to proceed with executions given the irreversibility of a sentence of death."
But the Bangladeshi government said the trial process met the proper standards with the defendant receiving the opportunity to challenge the prosecution's case in open court and appeal the verdict all the way up to the country's Supreme Court.
Since 2010, two tribunals have convicted more than a dozen people, mostly senior leaders of Jamaat-e-Islami, which had openly campaigned against independence. Jamaat-e-Islami says the trials are politically motivated.
Prime Minister Sheikh Hasina set up the tribunals in 2010, reviving a stalled process and making good on a pledge she made before 2008 elections.
There was a process of trying suspected war criminals after Bangladesh gained independence, but it was halted following the assassination of then-President and independence leader Sheikh Mujibur Rahman -- Hasina's father -- and most of his family members in a 1975 military coup.