Bangladesh clerics protest Nobel winner gay comments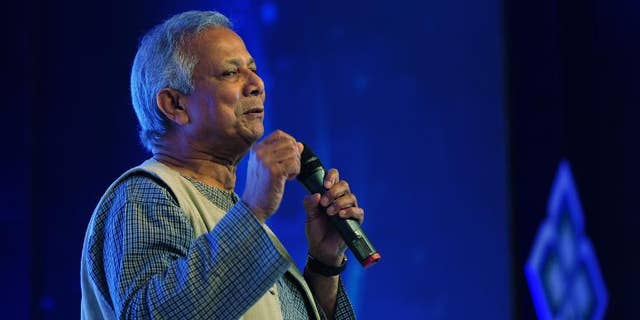 Dhaka (AFP) – Clerics in Bangladesh held small protests Tuesday against Muhammad Yunus over comments he made in 2012 supporting gay rights, in the latest campaign against the Nobel laureate and micro-loan pioneer.
Islamic groups with links to the government in the deeply conservative Muslim country have organised the campaign against Yunus, saying he should be prosecuted for supporting homosexuals.
Imams held peaceful street protests against Yunus in some towns around the country, but the rallies attracted only small numbers despite efforts by organisers to drum up support.
"Yunus has become an apostate for supporting homosexuality," said one imam, Maolana Mohammad Noman, who took part in a protest in the eastern town of Comilla.
Local police chief Mohiuddin Mahmud told AFP that scores of imams joined the rally in Comilla and demanded Yunus's execution.
Moniruzzaman Rabbani, secretary of a committee that helps run the national mosque in Dhaka, said organisers distributed 600,000 leaflets in hundreds of towns outlining Yunus's statement against violence and opposing discrimination against gay people.
"The protest took place in each of the country's 580 sub-district towns," Rabbani said. Organisers would distribute anti-Yunus leaflets in at least "100 mosques" in the capital during weekly prayers on Friday.
The 73-year-old economist made the statement along with three other Nobel laureates in April 2012 following the prosecution of gay people in Uganda.
Yunus is currently not in the country.
Homosexuality in Bangladesh is punishable by a maximum sentence of life in prison.
The campaign is the latest aimed at discrediting and attacking Yunus in Bangladesh. He was sacked in 2011 from Grameen Bank, the micro-credit pioneer he founded, after angering Prime Minister Sheikh Hasina by joining politics briefly.
Last month the government launched tax probes against the anti-poverty campaigner and his social business firms, accusing them of evading millions of dollars in taxes.
Rabbani said the protests were organised "solely in an effort to protect Islam and family". But an official has told AFP that the government's Islamic Foundation, responsible for religious affairs, was bankrolling the campaign.
Shamim Afzal, head of the foundation, has denied that his department was behind the campaign or that it supported it.
Yunus set up Grameen Bank in 1983 and made it a global success story in tackling poverty. His efforts to make collateral-free micro loans easily available for Bangladesh's rural poor made him a national hero.