Ballot box score: Game 3 of ALCS in Toronto goes head-to-head with Canadian federal election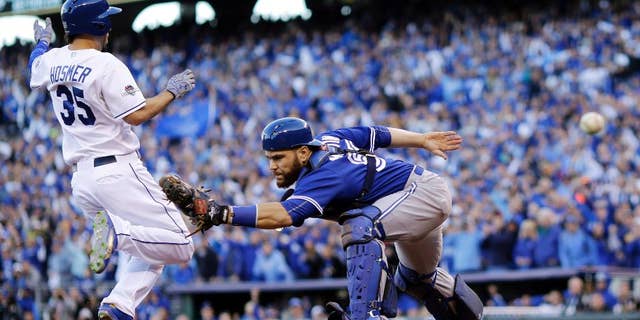 NEWYou can now listen to Fox News articles!
TORONTO – Besides runs, hits and errors, Toronto Blue Jays fans might have other numbers on their minds as they watch Game 3 of the AL Championship Series.
While the Blue Jays are hosting Kansas City on Monday night, voters will be casting their ballots in Canada's 42nd federal election.
Liberal leader Justin Trudeau, the son of late Prime Minister Pierre Trudeau, is leading in the polls and the outcome could spell the end of a decade of Conservative rule under Stephen Harper.
Polls are open in Ontario from 9:30 a.m. until 9:30 p.m. Blue Jays right-hander Marcus Stroman, who'll start Game 3 at 8:07 p.m., has encouraged fans to vote before coming to the game.
"Get up at 8, 9 a.m., go vote, get that out of the way and start getting ready for the game by noon," Stroman told Canadian TV station Sportsnet on Friday. "I'm going to need the city as rowdy and crazy as possible."
Catcher Russell Martin and outfielder Dalton Pompey are the two lone Canadians on Toronto's roster. Martin declined to answer questions about the election Sunday, while the 22-year-old Pompey acknowledged he's never voted. He's only been eligible once before, in the May 2011 election that saw Harper win his first majority.
Pompey said some of his 33,000 Twitter followers have been asking him to urge others to vote
"I'm definitely going to tweet it out and raise awareness," he said.
Second baseman Ryan Goins, from Texas, hasn't been paying much attention to the campaign.
"To be honest, not at all," Goins said. "I'm a baseball player, that's what I do, that's my job. I just know taxes are going to kill me either way.
"The only thing I have is these flyers they keep putting under the door of my condo," he said. "That's the only way I know. I didn't even know (Monday) was voting day."
Manager John Gibbons, who seldom hides his own conservative leanings, met Harper when the Conservative leader attended a game against Cleveland in early September. Gibbons later told reporters that Harper was a "great guy."
"We're both probably outnumbered in town here, but I told him I love his politics," Gibbons said then.
Asked Sunday how he'd handicap the Conservatives' fading chances, Gibbons compared them to his own team's situation after losing the first two games of the ALCS.
"Like ours?" Gibbons cracked. "I don't get into politics. If we were 2-0 up I might have a comment."
Besides Harper, Trudeau and New Democrat leader Tom Mulcair also attended Blue Jays games this season. After Toronto lost all three times, the leaders made a pact via Twitter that they would stay away from Rogers Centre as the Blue Jays chased their first division crown since 1993.
Reliever Liam Hendriks, who's from Perth, Australia, hasn't kept close tabs on the campaign. But he took note of a Conservative attack ad that accused Trudeau of inexperience and mocked his looks, ending with the comment, "Nice hair, though."
"It's always about them trash-talking him," Hendriks said. "All of a sudden there's a compliment at the end. I'm like, 'That is so Canadian.'"
Hendriks is married to a French-Canadian woman from Quebec City, Quebec, but the couple doesn't live in Canada in the offseason.
"She looks into it a little bit but it's not something we delve into or research because neither us lives here at the moment," Hendriks said.
Goins had no doubts that the fans would be focused on the field Monday, not on incoming election results.
"They've had an election in the last 22 years," Goins said. "They haven't had a playoff game. I know where people's eyes will be."