Bali bombing suspect extradited to Indonesia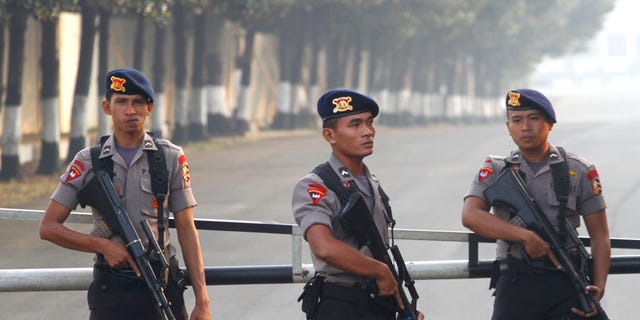 JAKARTA, Indonesia – A key suspect in the 2002 Bali bombings that killed 202 people was escorted home to Indonesia under tight security to stand trial Thursday, six months after he was captured in the same northwestern Pakistani town where Osama bin Laden was killed.
Umar Patek, an al-Qaida-linked Indonesian militant, had a $1 million bounty on his head when authorities caught up with him on Jan. 25 in Abbottabad — just a few miles from where U.S. commandos killed al-Qaida chief bin Laden in a raid four months later.
Ansyaad Mbai, Indonesia's anti-terrorism chief, told The Associated Press it was no coincidence that the two men were in the same town.
"It's further evidence of the link between the Southeast Asian terror network and al-Qaida," he said, adding that Patek, well plugged into international terror networks during his 10 years on the run, had been hoping for a meeting.
The 41-year-old militant was quietly taken to the Pakistani air force base late Wednesday night, put on a waiting Indonesian plane and flown to the capital, Jakarta.
He was rushed to a police detention center in the West Java town of Kelapa Dua immediately after touching down.
Indonesia, the world's most populous Muslim country, has been hit by a string of terrorist attacks blamed on the al-Qaida-linked Jemaah Islamiyah network since Sept. 11, 2001, but the Bali bombing was by far the most deadly.
Patek has admitted to scouting out the site for the attack on two nightclubs packed with foreign tourists and to helping assemble the 2,250-pound (1,020-kilogram) bomb that was hidden inside a Mitsubishi van, Mbai said.
It exploded just before midnight, flattening the clubs and leaving a crater several feet (a meter) deep.
Patek also told investigators he provided explosives for the string of Christmas Eve attacks on churches in 2000 that claimed 19 lives, Mbai said.
No date for his trial has yet been announced.
But because anti-terrorism laws passed after the Bali blasts cannot be applied retroactively, Patek will likely be charged with murder and illegal possession of explosives under the much weaker criminal code, Mbai told The AP.
Those charges also face a maximum penalty of death, but there are concerns a conviction will be harder to secure. And from behind bars, he would still be able to influence other militants with his radical thoughts.
A high-ranking anti-terrorism official, Chairul Akbar, said Indonesia only agreed to take Patek after the U.S. and Australia — who both lost citizens in the Bali blasts — withdrew offers to try him in their courts.
Indonesia's anti-terrorism campaign has been highly praised, with hundreds of suspects arrested and convicted in recent years. But Patek is one of the only Jemaah Islamiyah leaders to have been captured alive.
U.S officials, who spoke on condition of anonymity, have said the presence of both Patek and bin Laden in Abbottabad appeared to be a coincidence.
But Mbai said several other militants — from Asia and Europe to the Middle East — also were arrested in the same region of northwest Pakistan early this year.
All had hoped to meet bin Laden, though it was not clear if they'd succeeded or were planning a new terror strike.
"Patek was very valuable for the U.S.," he added. "He helped lead authorities to bin Laden."
___
Associated Press writers Munir Ahmed and Asif Shahzad contributed to this report from Islamabad.