Bahrain activist detained for 'insulting' the king after ripping up his photograph in court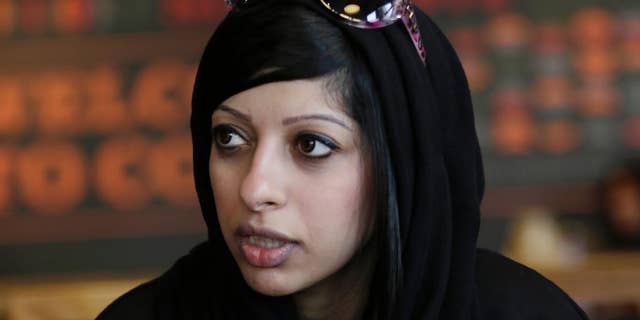 DUBAI, United Arab Emirates – A Bahraini activist who is eight months pregnant was detained for "insulting" the king after she tore up his photograph in court, a human rights organization said Thursday.
Human Rights Watch said Zainab al-Khawaja appeared before a Bahraini court to face charges related to two previous incidents in which she had torn up photographs of the king. Once in the courtroom on Wednesday, she pulled out and ripped up another photograph of the monarch.
The rights group said that during her court appearance, al-Khawaja "took a photo of King Hamad, ripped it up, and placed it in front of the judge, who immediately adjourned the hearing. Authorities arrested her immediately and she spent the night in Isa Town detention center."
She was ordered detained for seven days on charges of insulting the head of state.
Amnesty International said al-Khawaja could face up to seven years in prison if convicted. Human Rights Watch said she could also face a fine of up to $26,500.
She previously spent almost a year in prison on a number of charges, including taking part in illegal protests and insulting police officers, before being released in February.
Her father, prominent activist Abdulhadi al-Khawaja, is serving a life sentence for his role in the 2011 protests by majority Shiites demanding greater rights form the Sunni-led government.
Amnesty International said she reportedly told the judge in Wednesday's session: "I am the daughter of a proud and free man. My mother brought me into this world free, and I will give birth to a free baby boy even if it is inside our prisons."
Her sister Maryam al-Khawaja is on trial for assaulting police during questioning at the airport — a charge she denies. She was detained for several weeks before her release late last month. She posted a photograph of herself on Twitter Thursday also tearing up a picture of the king.
"This is what freedom of expression looks like. Arrest me with Zainab," she wrote in the post.
In another post, she encouraged others to post pictures of themselves tearing the king's picture in solidarity with her sister.
The monarchy in Bahrain, which hosts the U.S. Navy's 5th Fleet, has struggled to quell Shiite protests that erupted during the Arab Spring uprising of 2011. The government's handling of the unrest has drawn criticism from international rights groups.
"It says much about the state of the justice system in Bahrain that you're more likely to end up in jail for ripping up a photo than you are for shooting an unarmed protester," said Joe Stork, deputy Middle East director at Human Rights Watch.