Back to favorite topic, Egypt's leader blasts "evil people"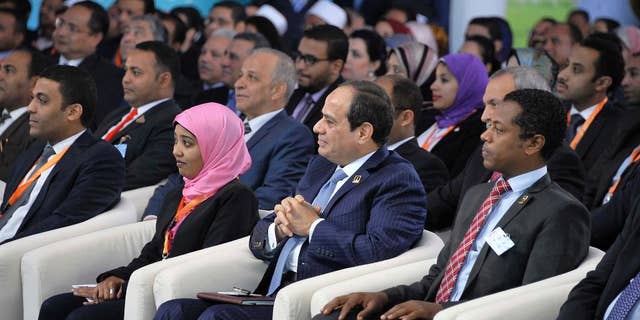 NEWYou can now listen to Fox News articles!
CAIRO – Egypt's president has returned to some of his favorite topics, angrily denouncing the "evil people" plotting against his country and questioning the ideology of Islamic militants waging an insurgency against his government.
Abdel-Fattah el-Sissi, addressing a youth meeting in the southern city of Aswan on Saturday, also declared Egypt to be "very, very poor," but reassured Egyptians this would not stop the country from "moving forward."
El-Sissi has overseen the introduction this year of ambitious economic reforms to revive the country's ailing economy, while his security forces are fighting an increasingly emboldened insurgency by Islamic militants in the Sinai Peninsula.
A general-turned-president, he has also overseen the arrest since 2013 of thousands of Islamists as well as hundreds of secular activists following his ouster that year of an Islamist president.