Baby elephant killed on Malaysia highway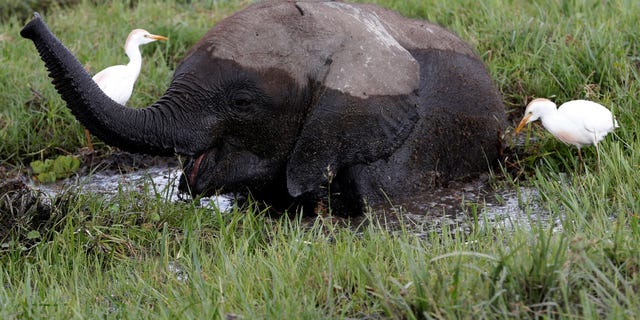 NEWYou can now listen to Fox News articles!
A two-year-old elephant was found dead Friday by Malaysian state officers, according to a conservation group that posted the horrifying photos on social media.
WARNING: GRAPHIC PHOTOS BELOW
The images struck a chord on Facebook with users expressing their concerns for wildlife and reckless drivers, BBC reported.
"We believe this baby died very fast, it was hit on its head and its family was no longer there by the time we arrived," Ahimsa Campos-Arceiz, a member of Management and Ecology of Malaysian Elephants (MEME), said. Further details on the animal's death were unclear.
US WAR VET FIGHTING TO SAVE AFRICAN ELEPHANTS
"Incidents like this do not happen often," said Perak Department of Wildlife and National Parks director, Loo Kean Seong. It happened on the Gerik-Jeli Highway.

Environmentalists said that the increasing habitat destruction has forced the wild elephants closer to the highway.

INDONESIA, MALAYSIA, PHILIPPINES LAUNCH JOINT SEA PATROLS
"Wild elephants have already lost so much of their forests and more of them are coming out to find food like grass, palm trees, and bamboo," Campos-Arceiz continued.
The Perak Department of Wildlife and National Parks said that there are signboards to notify drivers that there are elephant crossings along the highway and warned drivers to be careful when driving, especially early in the morning and late at night, The Star reported.