B-2 bombers kill nearly 100 ISIS terrorists in Libya
A pair of B-2 "stealth" bombers blasted two ISIS training camps in Libya on Wednesday evening, dropping 108 precision-guided bombs and sending jihadists scattering -- many of whom were then "cleaned up" by drone-launched hellfire missiles, U.S. defense officials told Fox News.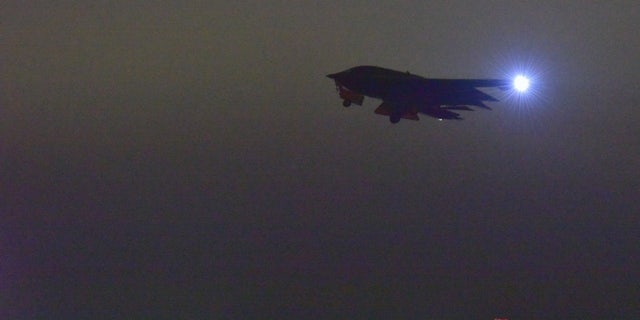 The assault killed an estimated 85 terrorists at the camps, which were about 30 miles southwest of the Libyan coastal city of Sirte. Many of the fighters were "actively plotting operations in Europe," Defense Secretary Ash Carter said at a news conference Thursday.
PENTAGON RECOMMENDED AGAINST MANNING COMMUTATION, OFFICIAL SAYS
President Obama authorized the action. Most of the terrorists targeted had escaped Sirte after extensive military actions there.
U.S. drones "cleaned up" the operation by launching hellfire missiles that killed a several of ISIS fighters trying to run to safety.
Immediately prior to the attack, the militants were seen in formation carrying weapons and mortars and wearing tactical vests.
THE HOTTEST MILITARY GEAR FOR 2017
The bombers took off from their permanent base in Missouri and refueled at least five times midair during the mission. The flight lasted about 30 hours. The planes flew around the world and back without landing.
The strikes used strategic nuclear-capable bombers as opposed to more conventional jets stationed in England in order to "send a strategic message" to other adversaries such as Russia and China, a source told Fox News.
Carter said the bombers were the most capable tools for this mission even though other available airpower was closer to North Africa. Previous strikes in Libya used drones and F-15s from a U.S. Air Force base in England, and two Navy guided-missile destroyers were off the coast of Libya armed with Tomahawk cruise missiles.
B-2 Spirit stealth bombers had last seen combat in March 2011, helping to enforce a no-fly zone over Libya, Pentagon officials said. "The B-2 Spirit is the world's most technologically-advanced strategic bomber and brings massive firepower to bear, in a short time, anywhere on the globe," Air Force spokesman Capt. Mark Graff told reporters.
The strikes were part of the Pentagon's goal to give ISIS "the lasting defeat it deserves," Carter added. He said "little nests" of fighters had sprouted up in recent years amid the civil war in Libya.
Two U.S. Navy ships -- the USS Donald Cook and USS Porter -- remained in the Mediterranean to provide search and rescue if necessary. Sirte is located about halfway between Tripoli and Benghazi.
The Russian aircraft carrier Admiral Kuznetsov is about to leave the Mediterranean after hosting a Libyan general, Khalifa Haftar, fighting the U.S. and U.N.-backed government in Tripoli. The Russians reportedly pledged weapons and financial support.
The U.S. has conducted 495 airstrikes in Sirte since August, mostly from drones flown from the region to target ISIS. Marine Harrier jets and Cobra attack helicopters conducted airstrikes as well from a Navy amphibious assault ship off the coast of Libya in August.
At the start of the August strikes, Pentagon officials said the bombing campaign would last "weeks." President Obama approved extensions to the campaign four times.
Late last month, the U.S. Africa Command announced the bombing campaign had ended.
The military has conducted unilateral strikes two other times since November 2015, targeting ISIS camps and leaders. These strikes originated out of an Air Force base in England.
In addition to the Libya operation, Pentagon spokesman Peter Cook said that two Al Qaeda operatives were killed in separate airstrikes in Syria last week. The first airstrike, on Jan. 12, resulted in the death of Abd al-Jalil al-Muslimi, who the Pentagon described as a travel "facilitator" who had ties to numerous attack plotters and terrorists.
The second airstrike, on Jan. 17, killed Mohammad Habib Boussadoun al-Tunisi, who officials said was involved in a number of plots to attack Western targets. Boussadoun had been in Syria since 2014 after spending several years in Europe and the Middle East.
Cook also said that a Jan. 8 airstrike in Syria killed Abu Anas al-Iraqi, a senior ISIS member. He said al-Iraqi oversaw media and financial operations and was a member of ISIS leader Abu Bakr al-Baghdadi's inner circle.
Since taking office, President Obama has authorized airstrikes in at least seven countries: Libya, Iraq, Syria, Pakistan, Afghanistan, Yemen and Somalia.
The Associated Press contributed to this report.