Award Stripped from 15-Year-Old Artist Over Allegations of Latino Gang Symbols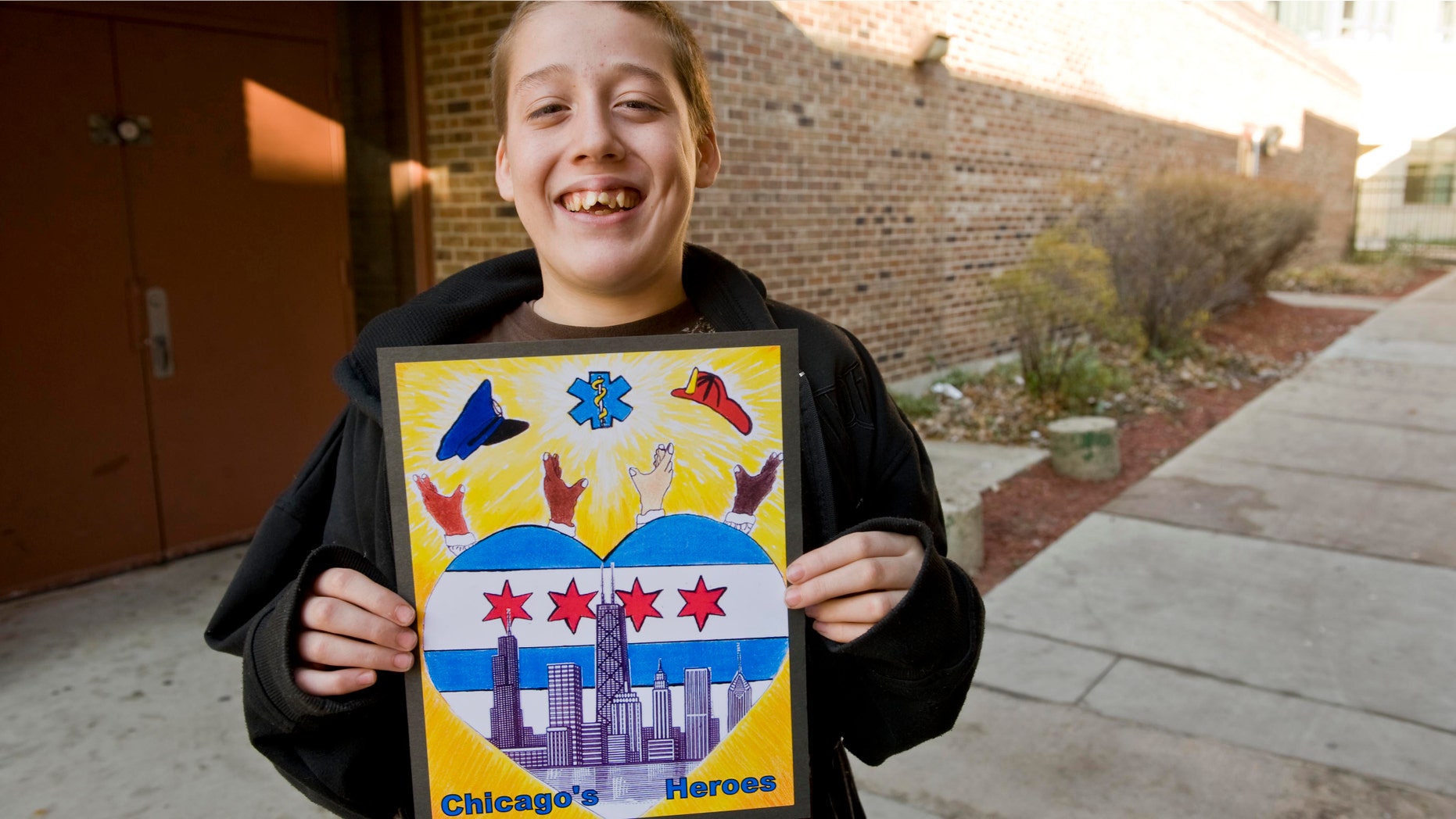 A 15-year-old Chicago artist who drew raves for a photo of the city's skyline inside a heart was booted from a photo competition he won after the painting was said to depict street signs for a Latino gang.
Herbert Pulgar's painting was the winning design for Chicago's 2012-13 vehicle registration sticker. There was much hoopla after he won – he was interviewed by local media and appeared on TV segments alongside city officials who praised him for his work and recognition.
Herbert, who attends a school for troubled youth, has said his piece was meant to honor city firefighters, paramedics and police. It includes the city's skyline inside a heart, with hands pointing toward a police hat, firefighter helmet and paramedic symbol.
It has no gang affiliation at all.. I am very upset. I feel very upset that something so positive could be so negative."
But city officials began expressing concern about the design. Jody Weis, the former Chicago police superintendent and now president of the Chicago Crime Commission, said the Maniac Latin Disciples, a prominent gang in the city, uses a heart as a symbol, and some believed the hands depicted a gang sign.
Herbert and his mother vehemently deny the drawing has anything to do with gangs. They have demanded an apology from Weis.
"The sticker has nothing wrong with it. ... It has no gang affiliation at all," his mother, Jessica Loor, said at a news conference at Lawrence Hall Youth Services, where her son attends high school. "I am very upset. I feel very upset that something so positive could be so negative."
Chicago, the nation's third-largest city, requires residents with vehicles to buy the stickers and place them on the inside of their windshields. The city sells about 1.2 million stickers each year.
"I cannot ask drivers to put a sticker on their cars that may be misconstrued as containing gang symbols," City Clerk Susana Mendoza said in announcing her decision not to use the design. 
Dali Museum Reopens Amid Fanfare
The city instead will use a design by Caitlin Henehan, a senior at Resurrection High School and the runner-up in the city's contest to come up with art for the vehicle sticker, Mendoza said. That art depicts a firefighter, police officer and paramedic as super heroes.
Mendoza said it would be unfair to allow Pulgar to redesign his sticker art because other entrants would not have gotten the same chance.
Pulgar won a $1,000 savings bond with his winning design. Mendoza, the city clerk, says she will buy a $1,000 savings bond for him. She said she feels terrible about what the boy is going through.
Pulgar's art teacher, Janice Gould, said the hands were copied from a handout she provided the boy. She said she recognizes gang symbols after decades of working with troubled inner-city youth and that there are none in Herbert's work.
Beatles Museum Opens in Argentina
Weis on Wednesday reiterated his belief that the configuration of the hands, the heart and the placing of the hands atop the heart are all consistent with symbols of a particular gang.
"If you look at all of that, you're fighting a battle of perception, not intent, because we'll never know what was in this young man's heart," he said.
Contains material from The Associated Press.
Follow us on twitter.com/foxnewslatino
Like us at facebook.com/foxnewslatino