Award for 'Auschwitz prisoners' rappers draws ire in Germany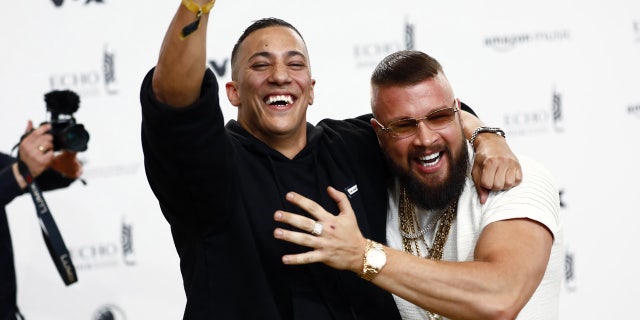 NEWYou can now listen to Fox News articles!
Some German leaders have spoken out after foul-mouthed singers who rap about their bodies being "more defined than Auschwitz prisoners" took home a top music award last week.
German rappers Kollegah and Farid Bang have defended the line as an expression of artistic freedom and not political opinion.
They won an Echo award for the year's best hip-hop album, titled "Young, Brutal, Good Looking 3." The New York Times likens the Echo award to the equivalence of winning a Grammy in the U.S.
Charlotte Knobloch, former head of the Central Council of Jews, said giving them an award in the hip-hop/urban national category was a "devastating sign" amid growing signs of "anti-Semitism in our society, especially in schools."
She says "the two rappers reach millions of mostly young people with their inhuman message."
Several past winners said they would return their awards.
The duo's record company, BMG, defended the rappers, citing "artistic freedom." The musicians themselves denied anti-Semitism but apologized for any offense caused.
The Times' report said the paper reached out to the rappers but did not receive comment. The paper mentioned that on the night of the awards, Kollegah — who has 1.4 million followers on Instagram -- said he didn't "want to make a political debate out of this."
Bang once apologized to an Auschwitz survivor who was offended by the lyrics and offered free concert tickets to Jewish people.
Anti-Semitic incidents have been on the rise across Germany. Several Jewish students have reported anti-Semitic bullying in schools in recent months and Israeli flags were burned during a recent protest in Berlin.
Earlier this month, Germany appointed a diplomat to coordinate government activities against anti-Semitism.
Monika Scharz-Friesel, a linguistics professor at Berlin's Technical University, told the Times that "to declare anti-Semitic and fantastical, conspiratorial song texts as 'artistic freedom,' and award them prizes is viewed by researchers of anti-Semitism as particularly irresponsible."
The Associated Press contributed to this report.