Avraham Shalom, former Israeli security director, dies at 86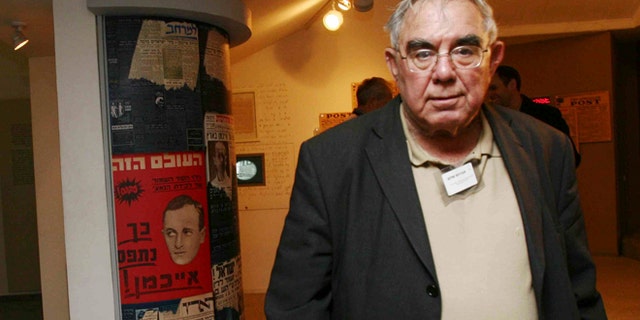 JERUSALEM – Avraham Shalom, a former director of Israel's Shin Bet security service who led the agency through some of its greatest achievements before resigning in disgrace, died in Tel Aviv on Thursday.
The Shin Bet did not give a cause of death. He was 86.
Shalom directed the Shin Bet from 1980 to 1986, a turbulent period when Israel was coping with Palestinian militants and Jewish extremists, and was involved in a war in neighboring Lebanon.
But his career was derailed after the Shin Bet was accused of killing two Palestinian bus hijackers and then trying to cover up the affair. The scandal was detected after newspapers published photos of the two attackers being led away, still alive, from the hijacking.
The incident, which became known as the "Bus 300 affair," ultimately forced Shalom to resign two years later in 1986. In a letter to then-President Chaim Herzog, Shalom said "all my actions in the matter of bus 300 were carried out by authority and with permission." He was later pardoned by Herzog.
Shalom was born in 1928 in Vienna, Austria, and immigrated to Tel Aviv in 1939. He joined what would become Israel's navy in 1946, two years before the country's independence, and was recruited to the Shin Bet in 1950.
During a two-year leave of absence from the internal security agency in the late 1950s, Shalom served as an officer and eventually headed the Mossad's Operations Division. He was part of the team that captured one of the most wanted Nazi leaders, Adolf Eichmann, in Argentina in 1960.
In a rare reunion with members of the team in Jerusalem nearly 50 years later, an emotional Shalom said he was surprised by Eichmann's polite and calm demeanor.
"To think that this was a man who treated humans like nails or pieces of stone was unexplainable. It is still inexplicable," he said.
In 1972, Shalom was appointed commander of the Security Division following the Munich Olympics Massacre, which resulted in the death of 11 Israeli athletes and officials by Palestinian militants.
In this capacity, Shalom was in charge of the security of Israeli airlines, the secret service and Israeli embassies, including overseeing the security of official Israeli delegations traveling around the world, according to the Shin Bet.
Under his direction of the agency in the 1980s, Shalom cracked down on underground Israeli right-wing extremists, and eventually led the agency to thwart a plan to blow up the Al-Aqsa Mosque in Jerusalem.
Later in life, Shalom became a strong advocate for reaching peace with the Palestinians. He was among six former Shin Bet directors who gave rare, candid interviews about their actions and decisions in the 2012 Oscar-nominated documentary "The Gatekeepers" by Israeli filmmaker Dror Moreh.
"Most people think that (a security official) can only be a hawk and not a dove ... no, he was a dove from the beginning," Moreh said. "He spoke very vigorously about the cost of the occupation, especially on Israeli youngsters . who pay the prices of the decisions of their leaders."
In the past decade, Shalom dedicated his time to the Geneva Initiative, an organization which aims to resolve the Israeli-Palestinian conflict through a two-state solution. He co-founded the group in 2003 and served as a board member until his death.
"(He) emphasized throughout his activity in our organization the need to end occupation, end the conflict and convince leaders that peace is not only important, but urgent," said Gadi Baltiansky, director general of the Geneva Initiative, who worked with Shalom for over 10 years.
In an interview with Israel's channel 10, Yaakov Peri, who immediately followed Shalom as director of the Shin Bet, praised him as the father of Israel's security system.
"It has always been said about (Avraham) that when you look at a soccer stadium of 100,000 spectators and there is one suspect, (Avraham) could point at the suspect," Peri said.
Shalom is proceeded in death by his wife, and is survived by one son and one daughter, who live in Israel.
The funeral, closed to the public and press, will take place on Sunday, according to a Shin Bet spokesman.