Avalanche deaths might be victims of China, Tibet crisis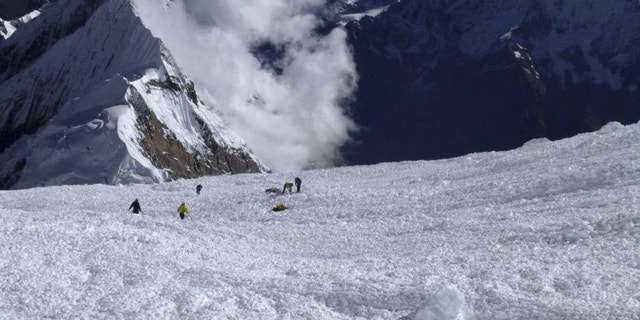 NEWYou can now listen to Fox News articles!
KATMANDU, Nepal – The climbers killed in a weekend avalanche in the Himalayas might not have been on that mountain had it not been for heightened tensions between Chinese authorities and Tibetans.
China rejected climbing permits for mountaineers hoping to scale peaks in the Tibetan Himalayas, forcing many to crowd onto mountains in Nepal, according to alpine companies.
As a result, about 30 teams were registered to climb Mount Manaslu, a 50 percent increase over last year, said Ang Tshering, who runs the popular Asian Trekking agency in Nepal.
About two dozen climbers were sleeping at a camp high on the mountain early Sunday when the avalanche swept over them. Rescuers have so far brought down the bodies of eight victims -- four French, one each from Germany, Italy and Spain, and a Nepali guide.
Tibet is a sensitive area for China, which sometimes limits access for foreign tourists. It has also in the past restricted the number of permits issued to climbers, and even stopped issuing them in 2008 while Chinese climbers took the Olympic torch to the top of Mount Everest before the Beijing Games.
Relations between Tibet and the Chinese government have been volatile this year, as many Tibetans set themselves on fire to bring attention to what they say is their suffering under China's repressive policies. China claims Tibet has always been Chinese territory, but most Tibetans say the Himalayan region was independent for much of its history.
Chinese officials did not accept applications for climbing permits this year, without giving any reason, said Tshering of Asian Trekking, who is also the representative for the China Tibet Mountaineering Association.
As a result, climbers who were planning to climb Cho Oyu or Shisapangma in the Tibetan region changed their destination to Manaslu, a popular choice because it was not as difficult a climb as other high mountains, Tshering said. It also has a relatively cheap $5,000 permit, compared to $35,000 for Everest during the autumn season.
Other mountains also saw an increase in traffic, Tshering said,
Bikram Newpane of the Katmandu-based Himalayan Rescue Association, which helps mountaineers in distress, said China's ban on permits for climbing the northern face of the Himalayas in Tibet could have added to the dangers.
"It is never 100 percent safe up on the mountains and the risks are always there. But there were more people on the mountains this year," Newpane said.
Overcrowding has been a concern because of limited space on trails and short windows of safety for summiting mountains.
Four people were killed on Mount Everest during the May climbing season when a traffic jam pushed dozens of climbers on the same narrow path to the summit, forcing many to stay too long at high altitudes and exhaust their oxygen supplies.
It is not clear if the extra people on Manaslu contributed to the tragedy. What does appear clear is that many would not have been on that mountain had their Tibetan climbing permits been accepted.
However, a crush of climbers could have benefits too, providing extra hands for rescue operations. Newpane praised the swift rescue on Manaslu, carried out by the trekking agencies that organized the expeditions.
Climbers also blame climate change for some of the recent tragedies on the Himalayan peaks, which have been hit by warmer weather that melts more snow and makes the surface unstable.
"The uncertainty of the weather condition has increased in the past few years on the mountains. The melting glaciers on the mountains make the grounds unstable," said Zimba Zangbu of the Nepal Mountaineering Association.
Zangbu said it continued to rain for two weeks in Nepal during the monsoon season that just ended.
"When it rains in the rest of the country, it snows on the mountains. Manaslu was also blanketed with soft snow," he said, adding that this type of snowfall does not get packed on the mountain surface and can lead to avalanches.
The spring season is more popular for climbers because the weather conditions are better on higher peaks before the monsoon brings rain and snow. High winds in the area known as the death zone over 8,000 meters (26,400 feet) also make climbing difficult during autumn.