Autopsy shows Palestinian teen was burned to death as violence spreads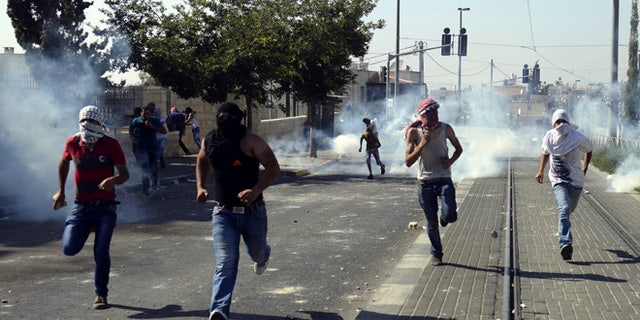 A teenager who Palestinians say was killed by Israeli extremists in a revenge attack was burned to death, an autopsy showed Saturday, as clashes fueled by anger over the case spread into Arab Israeli towns.
Palestinian Attorney General Abdelghani al-Owaiwi said initial results show that 16-year-old Palestinian Mohammed Aby Khdeir, whose death Wednesday had sparked large protests in his east Jerusalem neighborhood, suffered burns on "90 percent of his body."
"The results show he was breathing was on fire and died from burns and their consequences," al-Owaiwi said.
The teen's charred body was found in a forest after he was seized near his home in east Jerusalem. Palestinians have accused Israeli extremists of killing him to avenge the deaths of three Israeli teens who had been abducted and killed in the West Bank.
Israeli police said an investigation is still underway and they have not yet determined who killed the boy or why.
Israeli leaders widely condemned the killing of the Palestinian youth, and Prime Minister Benjamin Netanyahu vowed those responsible would be brought to justice.
The results of the autopsy comes as clashes between Israeli police and Palestinian protesters spread from Jerusalem to Arab towns in northern Israel Saturday, following the teen's funeral.
Protesters there threw rocks at passing cars, burned tires and threw rocks and fire bombs at police, who responded with tear gas and stun grenades. More than 20 people were arrested, Israeli police spokeswoman Luba Samri said.
Near the town of Qalansawe, protesters pulled over a car driven by an Israeli Jew, pulled him out and set the vehicle on fire, Samri said. The driver was not injured.
Palestinian protesters in Jerusalem also used an electric saw to damage the light rail that connects the heavily Arab populated eastern sector of the city with the mostly Jewish West, Samri said.
Israel's Arab minority enjoys full citizenship rights but some complain of discrimination and the group widely identifies with the Palestinians.
The chaos began after three Israeli teenagers, one of whom was a U.S. citizen, were abudcted in the West Bank on June 12, sparking a huge manhunt that ended with the gruesome discovery of their bodies earlier this week.
In a separate incident, relatives told The Associated Press that Abu Khdeir's 15-year-old cousin Tariq, a U.S. citizen who goes to school in Florida, was beaten by police during clashes on Thursday ahead of the funeral. The U.S. Consulate had no immediate comment on the report.
His parents, Suha and Salah, said Tariq was detained but had been treated at an Israeli hospital.
Samri, the Israeli police spokeswoman, said that Tariq Abu Khdeir had resisted arrest and attacked police officers. He was detained with a slingshot in his possession used to hurl stones at police, along with six other protesters, including some armed with knives, she said, adding that several officers were hurt in that specific protest, one of many that day.
Tariq's father said he witnessed his son's arrest and insisted the boy was not involved in the violence.
Meanwhile, violence along the border shared between southern Israel and the Gaza Strip, which has heightened in recent weeks following the kidnappings, continued as well on Saturday.
Israel launched a massive crackdown on the Islamic militant group Hamas, while retaliatory Palestinian rocket attacks and Israeli airstrikes intensified. The military says Palestinian militants have fired more than 150 rockets at southern Israel, and it has responded with airstrikes on more than 70 targets in Gaza.
Gaza militants fired at least ten rockets at Israel Saturday, injuring a soldier lightly and causing some damage to infrastructure, the military said.
Click here to read more from Haaretz.
The Associated Press contributed to this report.