Austria begins inspecting trucks after migrant deaths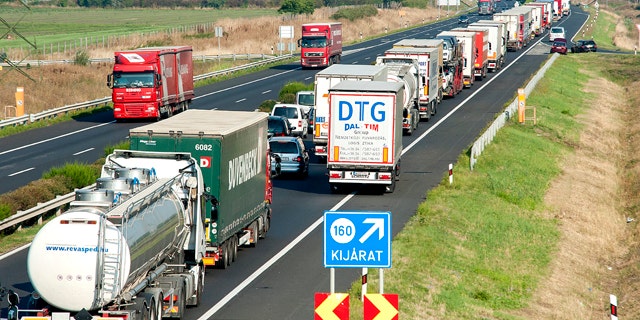 Austrian authorities have begun inspecting trucks at its border with Hungary after 71 migrants were found suffocated in a refrigeration truck last week.
The Hungarian traffic firm Utinform reported a 15 1/2 -mile backup at the Hegyeshalom border crossing Monday and said traffic was slower than usual at other Hungary-Austria border crossings. Both countries are part of the European Union's Schengen zone of passport-free travel. Under normal circumstances, vehicles are rarely inspected at the border anymore.
The bodies of the migrants were found Thursday in the truck with Hungarian license plates on the Budapest-Vienna highway. Police believe the 59 men, eight women, and four children may have been dead for up to 24 hours prior to their discovery. Five suspected human traffickers have been detained in the case and Hungary is stepping up its arrests of smugglers.
The security checks are the latest attempt by an E.U. nation to get control over a flood of migrants from the Middle East, Africa, and Asia that have precipitated Europe's most severe humanitarian crisis since the end of World War II. In recent months, the migrants have attempted to reach Europe by land rather than risking the dangerous crossing of the Mediterranean Sea.
On Monday, Greece's coast guard said it had rescued 2,492 people in 70 operations off the eastern islands of Lesbos, Chios, Samos, Agathonissi, Farmakonissi, Kos and Symi from Friday morning until Monday morning.
Separately, it said a coast guard patrol boat rescued another 13 people spotted in the water near the port of Chios by a local boat. One person was recovered unconscious and transported to a hospital. The circumstances of the incident were not immediately clear.
The Associated Press contributed to this report.