Australia: U.S. to Blame for Leaks, Not Assange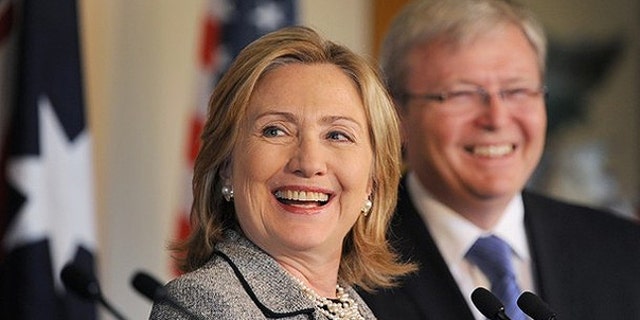 Australia's Foreign Minister Kevin Rudd apparently displayed a less-than-diplomatic side when he blamed America for the controversial release of thousands of classified documents by WikiLeaks, in an interview with Reuters published Wednesday.
Former prime minister Rudd said Australian WikiLeaks founder Julian Assange -- currently in custody in the UK over rape allegations -- was not to blame.
"Mr. Assange is not himself responsible for the unauthorized release of 250,000 documents from the U.S. diplomatic communications network," Rudd told the news agency. "The Americans are responsible for that."
The remarks were published at the end of a tough day for Rudd, after leaked cables revealed a damning assessment of his abilities by U.S. diplomats.
The cables, given by WikiLeaks to The Sydney Morning Herald, dubbed Rudd a "control freak" while he was prime minister, and criticized him for making snap announcements without consulting other countries.
Messages from the American embassy in Canberra to U.S. secretaries of state Condoleezza Rice and Hillary Clinton over a number of years said Rudd made "mistakes" and "significant blunders" in his management of foreign policy.
Rudd said earlier Wednesday he didn't "give a damn" about the assessments, which were "water off a duck's back," The Australian reported.
He was backed by Australian Prime Minister Julia Gillard, who this year ousted Rudd from the top job.
"Kevin Rudd is a man who throughout his adult life has devoted himself to expertise in foreign policy," she said, before publication of his remarks to Reuters. "He's bringing that expertise to bear for the Australian nation and doing an absolutely first class job."
Earlier in the day current U.S. Ambassador Jeff Bleich also defended Rudd, saying they enjoyed a good working relationship and were "good mates," according to The Australian.
Rudd on Wednesday morning vowed Australia would "absolutely" give consular support to arrested Assange, despite heavy criticism of his actions from the Gillard government.
"I'm the Foreign Minister of Australia and I'm responsible for the consular wellbeing of all Australians and, therefore, I just want to make it absolutely clear that, first of all, Mr. Assange has contacted the Australian Consul-General in London and asked for consular support," Rudd said.
"We have confirmed that we'll provide that, as we'd do for all Australian citizens.
"What we do with Australians in strife anywhere in the world is that we take the view that our responsibility is to ensure the consular rights and legal rights of all Australians abroad are protected. And that includes Mr. Assange."
Assange was denied bail at a court hearing in London Tuesday, after British police arrested him on a Swedish warrant for alleged rape. The 39-year-old, who has denied the rape allegations, is due back in court on Dec. 14.