Australia to boost military spending by $21 billion as China ramps up aggression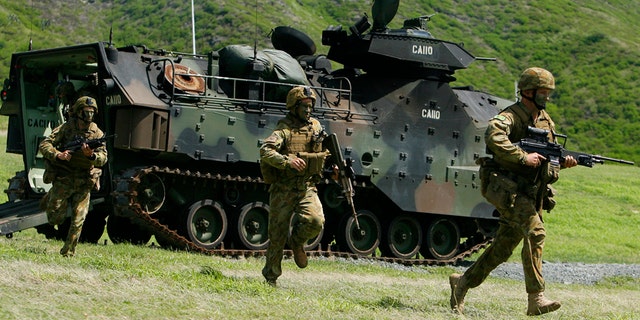 NEWYou can now listen to Fox News articles!
Australia announced Thursday it was bulking up its military as China becomes increasingly aggressive in the South China Sea, including what is reported to be the biggest expansion to its Navy since World War II.
Australia's government is ramping up defense spending by nearly $22 billion over the next decade, Reuters reports. Officials say they will add 12 submarines, 12 combat patrol vessels and nine anti-submarine frigates in what is its largest post-WWII Navy expansion, according to the New York Times.
The spending, which is projected to reach $140 billion by 2021-2022, will also cover new fighter jets, drones, submarines and other military equipment purchases for Australia's armed forces, Prime Minister Malcolm Turnbull told an audience in Canberra.
Tensions are soaring among countries in the Pacific as China is making claims to disputed islands and reefs in the South China Sea, through which more than $5 trillion in global trade passes each year.
Turnbull said the plan was designed to reflect the changing nature of security in the region, including China's economic and military rise and a heightened U.S. focus on the Asia-Pacific, Reuters reports.
"The United States will remain the pre-eminent global military power over the next two decades," he said. "It will continue to be Australia's most important strategic partner through our long-standing alliance, and the active presence of the United States will continue to underpin the stability of our region."
Turnbull's announcement was met with criticism from Beijing, which expressed "dissatisfaction" with the "negative" remarks, according to Reuters.
"We hope the Australian side can correctly and positively view China's development and strategic intent," Chinese Foreign Ministry spokeswoman Hua Chunying said at a press briefing.