Australia and Indonesia reach new intelligence agreement, even if it was hard to pick a name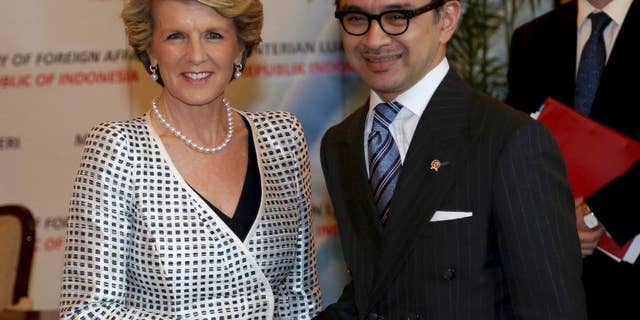 CANBERRA, Australia – Australia and Indonesia have reached a new agreement on how they'll use their intelligence operations in the future, even settling their disagreement on its name.
The agreement their foreign ministers are scheduled to sign Thursday on the Indonesian resort island of Bali is designed to mend a rift sparked last November by accusations that Australians tapped the cellphones of the Indonesian president, his wife and eight ministers and officials in 2009.
The document with the ungainly title of "Australia-Indonesia Joint Understanding on a Code of Conduct" was insisted upon by the Indonesians before diplomatic relations are normalized.
Australian Foreign Minister Julie Bishop said she had wanted to call it a "Joint Understanding," while her Indonesian counterpart Marty Natalegawa preferred "Code of Conduct."
"I called it the Joint Understanding, and Marty called it a Code of Conduct, so we put it together," Bishop told Sky News television.
Outgoing Indonesian President Susilo Bambang Yudhoyono downgraded the bilateral relationship and withdrew his ambassador from Australia in protest at media reports citing the phone-tapping allegations made by National Security Agency leaker Edward Snowden.
Bilateral relations have gradually improved, and Indonesian Ambassador Nadjib Riphat Kesoema returned to Canberra in May.
Bishop said the agreement was an annex to the Lombok Treaty on mutual security signed between the countries in 2006.
"Pursuant to that treaty, we're signing an agreement that essentially says that we won't use our intelligence resources to harm each other's interests, and it's also a platform for greater intelligence cooperation," Bishop said.
Australia has never confirmed or denied the allegations, and has offered no public assurances it won't tap phones in the future.
Bishop said in a statement later that Australia looked forward to resuming all cooperation with Indonesia on areas suspended since the allegations were made — intelligence, defense and border protection cooperation.