Aussie Couple Rescued From Water After Using Sex Doll as a Raft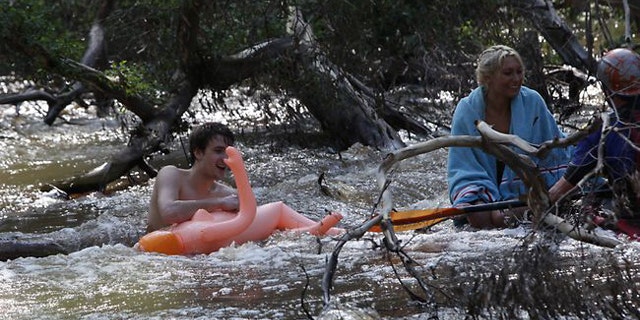 A bizarre decision to ride an inflatable doll down a flood-swollen Yarra River in Australia blew up in a woman's face yesterday when she lost her latex playmate in a rough patch.
The incident prompted a warning from police that blow-up sex toys are "not recognized flotation devices''.
Police and a State Emergency Services crew were called to the rescue when the woman and a man, both 19, struck trouble at Warrandyte North about 4.30 p.m. Tuesday.
They were floating down the river on two inflatable dolls and had just passed the Pound Bend Tunnel when the woman lost her toy in turbulent water.
She clung to a floating tree, calling for help while the man stayed with her. Fortunately for the pair, a passer-by called triple zero while while a kayaker took life jackets to the pair. Police and the SES crew hauled the water-logged thrillseekers to safety.
But, with Queensland in the grip of a deadly emergency and 50 rescues from flood waters around Victoria in the past week, police were not amused at the pair's "stupid" actions.
"We've got people busy with rescues and to have to divert resources to that sort of thing is not ideal," said Senior Constable Wayne Wilson
"Most rescue organisations would frown on people behaving in such a manner because there are people out there who are in genuine need of assistance," he said.
The rescued pair were checked by ambulance officers but did not require medical attention.
"The fate of the inflatable dolls is unknown," said Senior Constable Wilson.