Attacker at US Embassy in Montenegro resented NATO, joined 'Russophiles' Facebook group: report
The man who blew himself up this week after tossing a grenade at the U.S. Embassy in the capital of Montenegro was an ex-soldier who reviled NATO, backed Russia and posted pro-Marxist memes online, according to authorities and social media.
Dalibor Jaukovic, 43, apparently received a commendation from former Serbian strongman Slobodan Milosevic for his service during NATO's bombing of Serbia and Montenegro in 1999, authorities said Thursday.
A Facebook account purported to be Jaukovic's last year posted a photo of a plaque -- seemingly signed by Milosevic -- celebrating his contribution in the fighting.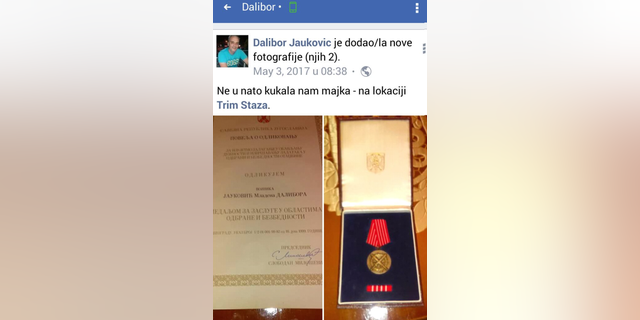 The account also included an ominous message along with the image: "no to NATO."
Radio Free Europe reported that Jaukovic also joined a Facebook group titled "Russophiles," where in February he wrote: "Shame on Montenegro. Fascists are closer to us than Russians."
And in January, Jaukovic reportedly posted a meme supporting Marxism and Leninism, Radio Free Europe reported.
Jaukovic had no criminal record and the attack wasn't an act of terrorism, police said.
Police added they were investigating his motives and whether he had acted alone. They said security has been enhanced throughout the country.
"Measures are being taken together with the FBI agents to check the social networks this individual has used," senior police official Enis Bakovic said.
The U.S. State Department said it doesn't believe the attack "is part of an ongoing threat."
Police said in a statement earlier that an assailant threw a bomb into the embassy yard and then killed himself by activating another one around midnight Wednesday.
The blast created a crater but caused no other material damage to the embassy property, the statement said. The embassy said Thursday all staff were safe and accounted for after the incident.
"Measures are being taken together with the FBI agents to check the social networks this individual has used."
Police said Jaukovic was a Montenegrin citizen born in neighboring Serbia in 1976.
Many in Montenegro remain opposed to the country's NATO membership because of the air war the alliance waged to stop the war in Kosovo when Montenegro was still part of Yugoslavia.
Montenegro joined NATO last year despite strong opposition from Russia, its traditional Slavic ally. Several people, including two Russian secret service operatives, are on trial in Podgorica on charges that they wanted to overthrow Montenegro's government in 2016 because of its pro-Western policies.
Nauert said the embassy would only perform emergency consular services for the remainder of the week. Previously scheduled visa appointments will be rescheduled.
The Associated Press contributed to this report.