Attack on policemen's home kills 13 in Iraq, officials say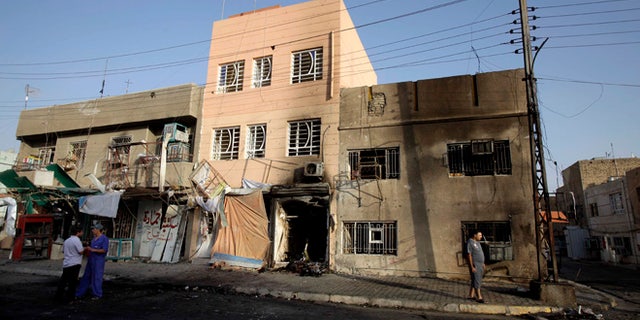 BAGHDAD – An attack on a policeman's home in central Iraq killed 13 people, including the policeman and his entire family, officials said on Thursday.
Violence has been on the rise across Iraq since a deadly crackdown by government forces on a Sunni protest camp in April, and attacks against civilians and security forces notably spiked during the Islamic holy month of Ramadan.
The surge of attacks has sparked fears that the country could spiral into a new round of widespread sectarian bloodshed similar to that which brought the country to the edge of civil war in 2006-2007.
Months of rallies by Iraq's minority Sunnis against the Shiite-led government over what they contend is second-class treatment and the unfair use of tough anti-terrorism measures against their sect has set the stage for the violence. Also, members of the security forces have been a favorite target for Sunni insurgents who consider them as traitors.
In the latest attack, police officials said gunmen stormed the policeman's home late Wednesday night in the city of Tikrit, about 80 miles north of Baghdad, killing the policeman, his wife, two sons and one daughter.
Minutes later and after neighbors started to gather around the policeman's house, a car bomb parked about yards away exploded, killing eight people and wounding 30.
A medical official confirmed the casualty figures. All officials spoke anonymously because they were not authorized to talk to media.
According to an Associated Press count, about 671 people have been killed during Ramadan this year, making it the bloodiest since 2007.
For Iraqi Sunnis, the last day of Ramadan was Wednesday and they began observing the Eid al-Fitr holiday on Thursday. Iraqi Shiites will start marking the holiday a day later, on Friday.