At UN Mideast debate, Israel shows new evidence of Iran sticking to its militant ways
As decision time comes closer for President Donald Trump to stay in or withdraw from the Iran nuclear deal, more evidence of Iranian intransigence in the region was given to members of the U.N. Security Council by Israel earlier today.
At a debate on the situation in the Middle East, including the Palestine Question, Israeli Ambassador Danny Danon released a previously classified Israeli intelligence document showing a satellite photograph of what he said was an Iranian-run induction and recruitment center close to Syria's capital Damascus, and only 12 miles from the border with Lebanon.
Danon claimed that more than 80,000 Shi'ite militants are operating in Syria under Iranian control. He said, "We are presenting this image to the world so you can understand the depth of Iran's involvement in Syria. What you see here is Iran's central induction and recruitment center in Syria. … It is at this base, just over five miles from Damascus, where they are trained to commit acts of terror in Syria and across the region."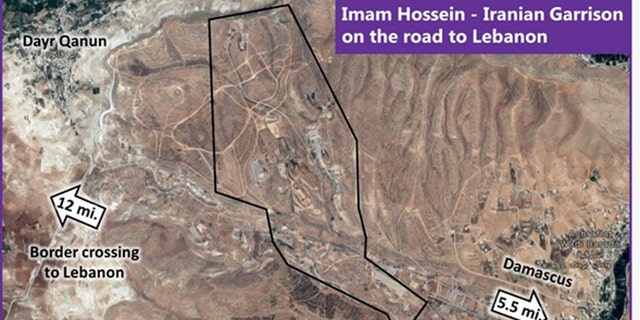 Without mentioning Iran by name, Danon warned: "Israel has a very clear policy that we have held since the administration of Prime Minister Menachem Begin. We will not allow regimes that seek our destruction to acquire nuclear weapons. Period."
Following Danon's comments, United States Ambassador Nikki Haley also was critical of Iran.
In her speech she condemned the growing use of using children, women and men as human shields. Haley said the use of human shields had reached "epic proportions." She gave examples of how Hezbollah, Hamas, ISIS and the Houthis in Yemen have used them.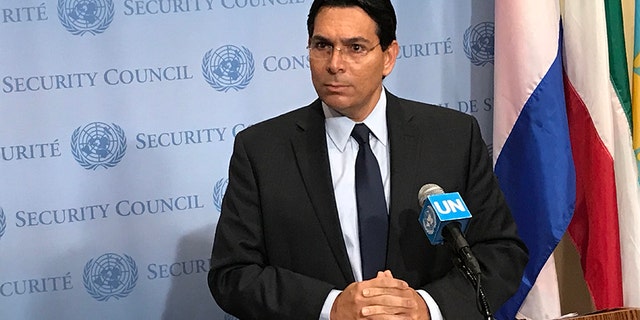 Haley took aim at Tehran for its support of terrorist groups and destabilization of the region.
She said, "As usual, Iran is the patron and protector of many of these groups that fight from behind the bodies of innocent civilians. Groups that Iran has sponsored or supported have perfected the tactic of using human shields, and inspired others to do the same."
Haley continued, "Of course, this is part of Iran's overarching efforts to destabilize the region — efforts that include illegal weapons shipments to Yemen, and invading Israeli air space with armed drones from Syrian territory."
While Saudi Arabia's Ambassador to the United Nations Abdallah Al-Mouallimi harshly condemned Israel over the situation in Gaza and the occupied territories, he also joined in the criticism of regional foe Iran for its interference in the region and called for action.
The Saudi Ambassador called on the Security Council to take "a stricter position on Iran and insist that the international community is not going to remain silent when faced with these practices of aggression and terrorism which undermine regional and international security and peace."
He also told members that Iran's continued support for Yemen has resulted in 125 missiles being shot into his country
Briefing members on the situation in the Middle East, Nickolay Mladenov, the U.N.'s special coordinator for the Middle East Peace Process, said what happened there has "immediate implications for the rest of the world."
In mentioning the crises in Syria and Yemen and the worsening situation in Gaza he said that the "risk of miscalculation grows, increasing the danger of a wider conflagration, as violence spills across borders."
Calling Gaza a "powder keg," Mladenov said that 35 Palestinians had been killed over the ongoing Friday protests on the Gaza/Israel border with large numbers injured by Israeli security forces.
Palestinian U.N. Ambassador Riyad Mansour speaking after Mladenov told members that Palestinians were peacefully protesting, and that since the so-called "Great March of Return" started at the end of March, 41 Palestinians have been killed and thousands more have been injured, giving slightly different numbers that were offered by the U.N.
The Palestinian representative criticized the Trump administration's embassy move to Jerusalem calling it a violation of Security Council resolutions, and said that it has "negatively impacted" the resumption of peace talks.
Iran's ambassador, Gholamali Khoshroo, who joined the Palestinian ambassador in his criticism of the U.S. embassy move to Jerusalem complained about what he called the "Iran-phobic and hysteric statements," but did not defend criticisms aimed at his country.
Earlier Danon defended his country's actions and accused Hamas of orchestrating a series of provocations and confrontations at the Gaza/Israel border, saying they were not peaceful protests but a means for Hamas to exploit its citizens and even putting them in harm's way, "even hoping — for their people to die."