At Least 8 Dead After Earthquake Hits Eastern Turkey, Topples Hotels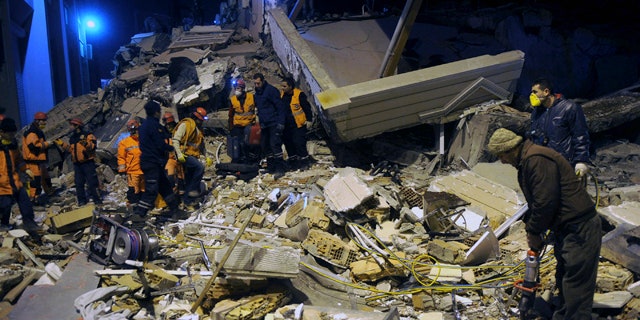 VAN, Turkey – A Japanese aid worker was among eight people killed by a second earthquake in eastern Turkey, and angry residents protested Thursday that authorities should have closed down two collapsed hotels damaged by the first tremor.
Riot police used pepper spray to halt the protests.
The demonstration erupted as rescue workers with pickaxes and earth-movers searched for survivors of Wednesday night's quake, which hit the same region slammed by an Oct. 23 temblor that left 600 people dead in the eastern province of Van.
Some 29 people were pulled out of the rubble in the provincial capital, also called Van, as frantic rescue efforts began Wednesday evening and lasted through the night under high-powered lights. Some of those buried were Turkish journalists covering the aftermath of the first earthquake, which left thousands homeless as cold weather began to close in on the mountainous region.
Van's most prominent hotel, the five-story Bayram Hotel, survived the Oct. 23 magnitude-7.2 quake with some cracks and a damaged elevator. But it toppled in the new, magnitude-5.7 quake, trapping an undetermined number of people under tons of concrete and twisted metal.
The Aslan Hotel, a budget operation in Van, also collapsed.
"How is it that these two buildings were not sealed off and were allowed to continue operating?" asked Osman Baydemir, a mayor for the southeastern city of Diyarbakir and a member of a pro-Kurdish opposition party. "The government must bring those responsible to account."
Residents accused local authorities of not properly inspecting damaged buildings and called for the resignation of Gov. Munir Karaloglu, who arrived to tour the damage. Deputy Prime Minister Besir Atalay tried to talk to the protesters, but he angrily walked away as they booed the officials.
Riot police then charged the crowd with batons, and some people fell in the melee. Police used pepper spray to disperse the protesters, but the gas also affected nearby rescue and health workers, the Hurriyet newspaper said on its website.
Atalay said no one knows yet if officials had made a mistake by allowing the hotel to operate after the first quake, and urged patience until a full assessment was done. He said the latest quake knocked down 25 buildings in Van, but only two of those buildings, both hotels, were occupied.
Tough safety codes were approved a decade ago after earthquakes in western Turkey killed 18,000 people and prompted an outcry over the poor quality of construction, but enforcement has remained lax. After the quake last month, Prime Minister Recep Tayyip Erdogan said the negligence of municipalities, builders and supervisors over building codes amounted to murder.
Turkey's Anatolia agency said Atsushi Miyazaki, of Japan's Association for Aid and Relief, Japan, died in a hospital after being dug out Thursday from the rubble of the Bayram Hotel. Rescue workers performed CPR on him before taking him to the hospital.
His 32-year-old female colleague, Miyuki Konnai, was rescued alive from the wreckage of the same hotel late Wednesday, and the aid group said she was in stable condition.
"We spoke with her briefly, she is in a hospital," manager Ikuko Natori told The Associated Press by telephone from Tokyo. "She had a slight injury, but it is not life-threatening."
Two reporters from Turkey's Dogan news agency were still believed to be trapped in the hotel debris.
Recep Salci, a member of the search and rescue group Akut, said sniffer dogs had indicated that more survivors might be under the hotel rubble.
Some trapped journalists had sent text messages to colleagues asking to be rescued, said Ozgur Gunes, a cameraman for Turkey's Cihan news agency. He had left the hotel before the quake, but rushed back to collect his camera after it struck, only to find that the building had collapsed.
"There was dust everywhere and the hotel was flattened," he said. He told Sky Turk television the building had some small cracks before the quake but guests were told there was no structural damage.
For the second time in a month, the government has dispatched hundreds of rescue workers to Van province. The October temblor that destroyed at least 2,000 buildings in Van and in the worst-hit town of Ercis.
The U.S. Geological Survey said the latest earthquake measured 5.7 and that its epicenter was 9 miles (16 kilometers) south of Van.
About 1,400 aftershocks have rocked the region since the massive earthquake on Oct. 23. Many residents had been living in tents despite the cold, too afraid to return home.
Dogan Kalafat of Istanbul's Kandilli observatory warned that more tremors could follow in the region, which is crisscrossed by many fault lines.