At least 74 hurt in Cairo fire that engulfed hotel, nearby buildings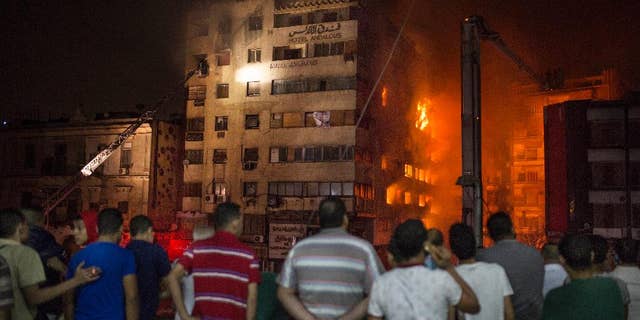 NEWYou can now listen to Fox News articles!
At least 74 people were injured after a massive fire engulfed a hotel and several nearby buildings in a busy low-price commercial area in downtown Cairo early Monday, according to Egypt's ambulance services.
No deaths were reported and most of the injured had breathing difficulties, the Ambulance Authority said. Half of the people were treated at the site and the rest were taken to nearby hospitals.
The cause of the blaze, which took six hours to put out, was not immediately known and an investigation was underway.
The fire started shortly after midnight inside the six-story Hotel Andalusia in the populous and dilapidated Ataba neighborhood. The flames quickly spread to at least three adjacent buildings, including a warehouse, according to an Interior Ministry statement carried by the state MENA news agency.
As hotel guests were being evacuated and fire engines arrived at the scene, the blaze engulfed dozens of stalls belonging to street vendors and small shops along the street.
Firefighters from atop cranes struggled for hours to extinguish the fire. Some smashed through windows to bring fire hoses into the buildings and to the upper floors. Vendors scaled balconies to climb inside the warehouse to salvage their merchandise.
Many watched with disbelief as the flames consumed their goods, which they said were worth hundreds of thousands of dollars.
"The whole area caught on fire, including buildings and our stores," said Ahmed Gamal, one of the vendors. "Everything became a mess."