At least 60 dead in Boko Haram attack: report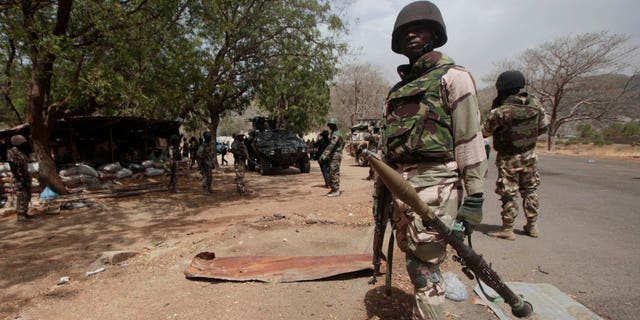 At least 60 people have been killed in an attack carried out by militant group Boko Haram this week, Amnesty International confirmed Friday.
The attack on the northwest Nigerian town of Rann took place Monday and marked one of the most lethal in the group's at least 10-year history, targeting those who had already been displaced by the ongoing conflict in what Amnesty indicated "may amount to possible war crimes."
"Those responsible must be brought to justice," Osai Ojigho, the Nigeria director for the human rights body stated.
ISIS RECRUITMENT DRIVE IN SOMALIA COULD PROVE 'MASSIVE THREAT TO THE US PRESENCE' IN THE REGION
The attack came two weeks after Boko Haram, a jihadist group that at one point aligned with ISIS, seized control of Rann and ran out Nigerian soldiers stationed there.
Ojigho said that witnesses told Amnesty investigators that soldiers abandoned their posts the day before the deadly attack, "demonstrating the authorities' utter failure to protect civilians."
NIGERIAN HELICOPTER CRASHES WHILE FIGHTING BOKO HARAM
A security source told Reuters that Nigerian troops returned to Rann in mid-January, accompanied by Cameroonian troops from a Multi-National Joint Task Force, but the soldiers then left – citing a lack of troops, weapons, and equipment.
Escalating violence perpetrated by Boko Haram in recent weeks forced 30,000 people out of Nigeria's northeast and into Cameroonian last weekend alone, the UN Refugee agency stated this week.
CLICK HERE TO GET THE FOX NEWS APP
More than 250,000 are reported to have been displaced amid the uptick of militant attacks aimed at the civilian population. The deteriorating security situation is also said to have gravely impacted humanitarian operations and forced aid workers to withdraw from certain areas, adding to the strain from the local population.