At least 46 killed in Taliban attack at major Afghanistan airport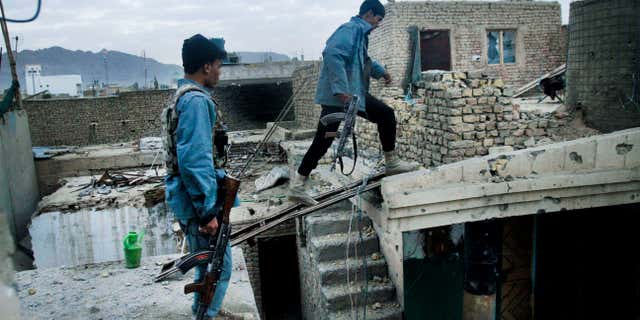 At least 46 people were killed and several others taken hostage Wednesday in a Taliban siege on an Afghanistan airport that houses NATO facilities.
Taliban fighters started attacking the heavily fortified Kandahar Air Field in the southern Afghanistan city Tuesday evening, but by Wednesday night, the assault had been largely contained, a senior defense official told Fox News.
The site contains a civilian airport and a large military base that houses thousands of NATO troops, civilian contractors and Afghan military forces.
The Taliban were met with heavy resistance at the base, but no U.S. personnel have been involved in the fighting, the official said.
"The operation is going very slowly as the Taliban have taken six people hostage including two women and two children, so we have to act cautiously," Dawood Shah Wafadar, commander of the 205 Atal army corps in southern Afghanistan, told Reuters.
Wafadar added that nine Taliban members were killed out of a 14-member assault force. Afghanistan's defense ministry said 37 civilians and members of the security forces also were killed in the attacks, the BBC reports.
A spokesman for NATO's Resolute Support mission told Reuters that there have been no reports of casualties among the international personnel at the base.
Officials say all flights to and from Kandahar have been canceled.
A statement to Reuters from the Taliban said suicide bombers armed with light and heavy weapons entered the base and had attacked NATO and Afghan soldiers. Security officials told The Wall Street Journal that the attackers were dressed in military uniforms and managed to take over a number of buildings at the airport, firing rockets at the runway.
But U.S. Army Col. Michael Lawhorn said the Taliban "never physically entered the airfield" in Kandahar but fired toward the air base from positions inside a local school nearby, according to The Associated Press.
Taliban spokesman Qari Yousaf Ahmadi told the Associated Press that the militant group's fighters had killed more than 50 soldiers and destroyed several vehicles and helicopters. But Ahmadi's claim could not be independently confirmed and there was no reliable estimate on the number of Taliban fighters killed or wounded.
The BBC reported the latest attack comes on the eve of Afghan President Ashraf Ghani's visit to Pakistan for a regional conference where they are expected to discuss peace talks with the Taliban.
Fox News' Lucas Tomlinson and The Associated Press contributed to this report.