At least 44 people killed in wave of bombings across Iraq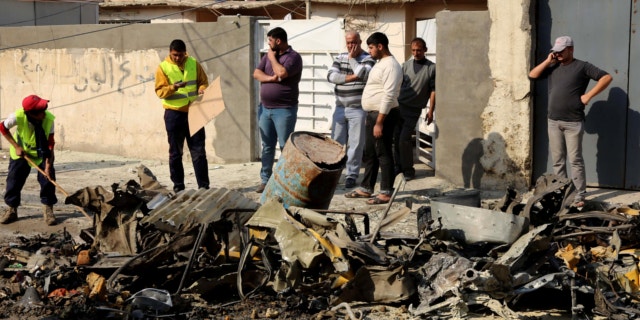 BAGHDAD – A wave of bombings across Iraq striking busy markets and a funeral north of Baghdad killed at least 44 people Wednesday, authorities said, as the country remains gripped by violence after Al Qaeda-linked militants took control of two cities in western Anbar province.
There was no immediate claim of responsibility for the attacks. Insurgent groups, mainly Al Qaeda's local branch and other Sunni militants, frequently target civilians in cafes and public areas, as well as Shiites and members of Iraqi security forces in an attempt to undermine confidence in the Shiite-led government and stir sectarian tensions.
The deadliest attack struck a funeral in the town of Buhriz, about 35 miles north of Baghdad. That bombing killed 16 people and wounded 26 inside of a mourning tent, a police officer said.
The funeral was for an anti-Al Qaeda Sunni militiaman who died of natural causes two days ago. The Sunni militia, known as the Awakening Council, was formed by U.S. forces during the height of the insurgency. They are seen as traitors by Al Qaeda's local branch and other militant groups.
In Baghdad, a series of bombings killed at least 28 people.
The deadliest attack there took place in the northern Shula neighborhood, where a parked car bomb exploded in an outdoor market, killing five shoppers and wounding 12, a police officer said. In another nearby market, a bomb killed three civilians and wounded 10, authorities said.
A car bombing in the nearby Shaab neighborhood killed four civilians and wounded 14, officials said. Another car bomb in a commercial area in the central Karrada area killed four civilians and wounded 14, police said. A car bomb in another part of Karrada killed two civilians and wounded 10, authorities said.
In Baghdad's southern suburb of Hussainya, a car bomb killed four civilians and wounded 11 in a market, officials said. In the capital's eastern Palestine Street, a car bomb killed three civilians and wounded 10, authorities said. Another market bombing killed three civilians and wounded eight in the eastern Maamil area, police said.
Medical officials confirmed the causality figures. All officials spoke on condition of anonymity as they were not authorized to release information.
The army and allied tribesmen have been fighting Al Qaeda's Islamic State of Iraq and the Levant group around Anbar's provincial capital, Ramadi, and the nearby city of Fallujah. The militants control the center of Fallujah and parts of Ramadi, a major challenge to the government and its forces two years after the withdrawal of U.S. troops.
Iraqi Prime Minister Nouri al-Maliki urged Anbar tribal allies to continue fighting Al Qaeda in a speech Wednesday.
"The tribesmen should take a firm stance in order to expel the terrorists from their areas so that peace would prevail there," al-Maliki said during his weekly televised address.
Also Wednesday, the World Health Organization said the cities of Ramadi and Fallujah have acute health needs due to the conflict. The organization said it has dispatched 2 tons of medicines and supplies.
"There is an increasing number of patients suffering from injuries which, if not treated, will lead to irreversible damage," the WHO's Iraq representative, Dr. Syed Jaffar Hussain, said in a statement.
Violence has escalated in Iraq over the past year. Last year, Iraq saw the highest death toll since the worst of the country's sectarian bloodletting began to subside in 2007, according to United Nations figures. The U.N. said violence killed 8,868 last year.
At least 288 people have died in violence across the country so far this month, according to an Associated Press count.