At least 31 people believed dead at Japanese volcano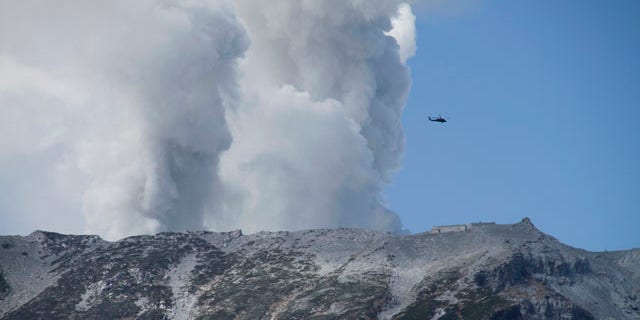 The bodies of at least 31 people believed to be dead have reportedly been discovered near the summit of an erupting volcano in central Japan.
Four victims were brought down and confirmed dead, one day after Mount Ontake's big initial eruption, said Takehiko Furukoshi, a Nagano prefecture crisis-management official. The 27 others were listed as having heart and lung failure, the customary way for Japanese authorities to describe a body until police doctors can examine it.
Officials provided no details on how they may have died
Mount Ontake in central Japan erupted shortly before noon local time Saturday, spewing large white plumes of gas and ash high into the sky and blanketing the surrounding area in ash. About 250 people were initially trapped on the slopes, but most made their way down by Saturday night.
Volcanic eruptions without warning are rare in Japan, which monitors seismic activity closely. Typically, any volcanic mountains that show signs of activity are closed to hikers, but that did not appear to have happened this time. The BBC reported that Mount Ontake is a popular place to view autumn foliage.
Japan's Fire and Disaster Management Agency said it was trying to update the number still missing and at least 37 climbers had been injured.
The Self-Defense Force, as Japan's military is called, sent seven helicopters and 250 troops. Police and fire departments also took part in the rescue effort.
About 40 people who were stranded overnight came down on Sunday. Many were injured, and some had to be rescued by helicopters or carried down on stretchers. By nightfall, all the injured had been brought down, officials said.
A large plume, a mixture of white and gray, continued to rise from the ash-covered summit of the volcano Sunday morning, visible from the nearby village of Otaki. A convoy of red fire trucks, sirens blaring, and rescue workers on foot headed past barriers into the restricted zone around the mountain.
Shinichi Shimohara, who works at a shrine at the foot of the mountain, said he was on his way up Saturday morning when he heard a loud noise that sounded like strong winds followed by "thunder" as the volcano erupted.
"For a while I heard thunder pounding a number of times," he said. "Soon after, some climbers started descending. They were all covered with ash, completely white. I thought to myself, this must be really serious."
Mount Ontake, about 130 miles west of Tokyo, sits on the border of Nagano and Gifu prefectures, on the main Japanese island of Honshu. The volcano's last major eruption was in 1979.
The Associated Press contributed to this report.