At Least 3 Moroccan Troops Killed in W. Sahara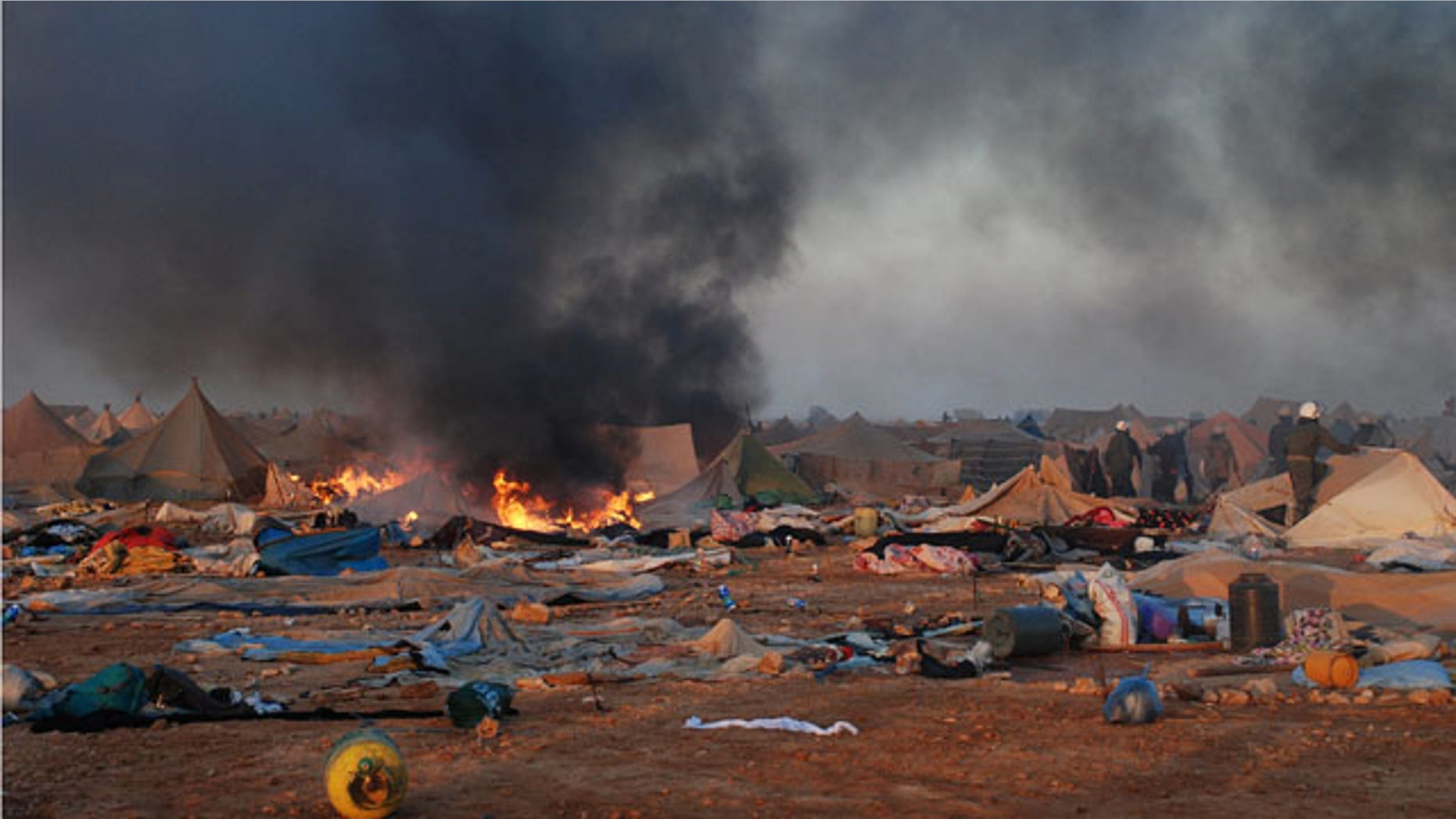 RABAT, Morocco -- At least three Moroccan security officials were killed and 70 injured Monday in a raid on a protest camp in the disputed territory of Western Sahara and unrest that then spread to a nearby city, where several buildings were set on fire.
A gendarme and a civil defense official were killed during the raid on the camp, Morocco's official MAP news agency said. Another member of the security forces was stabbed to death by vandals as discontent raged in the city of Laayoune, the report said.
Flames engulfed a TV station and an office building there, and paramilitary forces used tear gas against native Saharawi protesters. Laayoune, a city of some 270,000 people, many with Saharawi roots, is the main city in the disputed Western Sahara, where a local independence movement is locked in a long conflict with Morocco, which claims the territory.
In mid-October, some residents of the city had set up the Gdim Izik tent camp 6 miles east of Laayoune to protest poor living conditions. Tensions have been simmering there for weeks, and Monday at about dawn Moroccan security forces moved in to dismantle it -- an operation that took less than an hour, according to reports on Moroccan radio.
"It was a very forceful intervention," Galia Djimi, a Moroccan human rights activist who spoke from Laayoune, told The Associated Press. "People have been beaten. There are injured people."
British charity group Sandblast described the operation as "brutal." It said the camp reportedly came under a barrage of "tear gas, flames and high temperature pressure hoses."
The spokesman for the group that set up the camp, Brahim Ahmed, claimed that camp residents had killed numerous members of the Moroccan security forces -- as many as to 16, he said -- by stoning them or running them over with cars. He said an unknown number of camp residents had been killed, as well. That information could not be independently confirmed.
Such claims have always varied widely in the decades-long conflict over the Western Sahara, which has pitted Morocco against the Polisario Front independence movement made up of native Saharawis.
Monday's unrest came after weeks of tension in the vast desert territory, and hours before the scheduled reopening of informal U.N.-sponsored talks Monday in Manhasset, New York, between Morocco and the Polisario Front group on the fate of Western Sahara.
Morocco seeks autonomy for the territory it annexed in 1975, but the Polisario Front wants independence for the Western Sahara and its Saharawi population. The two sides, which once fought a war over the mineral-rich territory, have been at odds for decades. Thousands of Saharawis have been living in Polisario-run refugee camps in Algeria and elsewhere for decades, forced out of their homeland by the dispute.
The Moroccan governor of Laayoune, Mohamed Guelmous, told TV Channel 2M that two troops were killed and 70 injured, four in serious condition, after being met with a barrage of incendiary devices when they visited the Gdim Izik camp to arrest people he called troublemakers.
He also said four camp residents were injured, making no mention of any deaths among them. The governor said 65 people were arrested in the camp.
According to the Interior Ministry, those taken in were opportunists, some with criminal records, trying to take political advantage of the protest over living conditions in Laayoune.
Schools and offices in Laayoune were closed Monday. A cloud of black smoke rose above the city. An official in Laayoune told The Associated Press that the local TV station and an office handling regional investments were set ablaze. The official was not authorized to speak publicly.
Video of the Laayoune protests on the cadenaser.com site of the major Spanish radio station showed streets filled with what appeared to be Saharawi men -- many with their faces wrapped in cloth according to local custom. They moved chaotically through a street, some waving a Polisario flag, others carrying sticks and bottles.
There was no evidence in the video to match an account of the Laayoune protests carried by the official Moroccan news agency which said that demonstrators waved Moroccan flags and carried portraits of King Mohammed VI and shouted "The Sahara is Moroccan."