At least 3 dead, 79 injured in new attack on China train station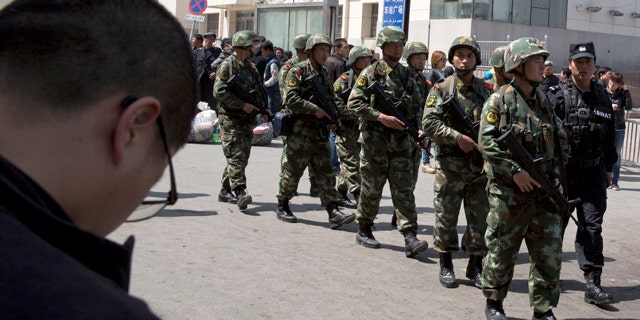 URUMQI, China – Chinese President Xi Jinping demanded "decisive" action against terrorism after a slashing and bomb attack at a Xinjiang train station killed three people and injured 79 while the leader was wrapping up a tour of the far-western region.
A group of knife-wielding attackers slashed at passengers and set off explosives near an exit of the South Station in the regional capital Urumqi late Wednesday, the official Xinhua News Agency said Thursday, quoting witnesses.
The attack followed Xi's four-day trip in which he visited local officials and police to stress the government's security efforts in the region, which has witnessed rising violence blamed on radical Islamists and separatists.
The blast took place about 7 p.m. in an area where arriving passengers stream out of the station.
"Suddenly we heard a huge sound and everybody outside started to run away," said Zhu Zhiqing, a local fruit vendor. "We came out and saw that there had been an explosion but we came in back quickly to close the business and go home."
There was no immediate word on arrests and it was unclear whether Xi was still in the region at the time of the attack. Information about events in the area about 1,550 miles west of Beijing is tightly controlled and was difficult to immediately verify many of the details.
"At the moment, it is acknowledged to be a terrorist attack. What is yet to be found out is who did this and for what purpose under whose instigation," Xinhua said in a report early Thursday.
Although authorities provided no details of suspects, the Chinese president said in his comments after the attack that authorities were in a long-term battle against Xinjiang separatists. Recent attacks blamed on separatists have appeared increasingly organized and more likely to target civilians as well as authorities.
"The battle to combat violence and terrorism will not allow even a moment of slackness, and decisive actions must be taken to resolutely suppress the terrorists' rampant momentum," Xi said in comments published on the front page of official newspapers Thursday and carried by state television.
Train service was suspended for about two hours, Xinhua said. It said security was tightened at all transport hubs in the city, which has a mainly Han Chinese population who are distinct from Xinjiang's native Turkic Muslim Uighur ethnic group.
Witnesses said the area outside the train station was cordoned off overnight.
But by afternoon Thursday, a public holiday, the train station bustled with hundreds of travelers bringing luggage and waiting in orderly lines. Paramilitary police with rifles and helmets and riot police with bulletproof vests and shields patrolled and guarded positions in groups of about a dozen each.
Street sellers hawked stacks of naan bread, while shopkeepers repaired minor damage to signs and lights on storefronts. One shopkeeper refused to let people bring their bags into his convenience store and held a short, thick wooden pole in front of him.
Photos circulating briefly on Chinese social media sites showed scattered luggage near the station's exit and a heavy presence of armed men. Xinhua said the blast took place between the station's exit and a nearby bus stop.
Tensions between Chinese and Uighurs have been simmering for years in Xinjiang, particularly since riots in 2009 in Urumqi left nearly 200 people dead. Beijing blames the violence on overseas-based instigators, but has offered little evidence.
Rian Thum, a professor at Loyola University in New Orleans, who specializes in Uighur history and issues, said the use of explosives to target civilians "would mark an alarming deviation from previous patterns of Uighur political violence."
"Most violent resistance had previously been directed at police officers, soldiers, and officials, often using knives and farm tools. The attack at the Urumchi train station, if it was carried out by Uighurs, suggests an emerging pattern of more civilian targets and violence on a larger scale," he said.
Recent attacks appear to point to a greater level of planning -- along with continuing Chinese security and intelligence lapses despite massive growth in spending in those areas.
Last year, three Uighurs rammed a vehicle into crowds in a suicide attack near the Forbidden City gate in the heart of Beijing, killing themselves and two tourists.
In March, five knife-wielding men and women believed to be Uighurs slashed at crowds indiscriminately at a railway station in southwestern China, killing 29 people.
While Beijing faults separatists for raising ethnic tensions, government critics say restrictive and discriminatory policies and practices have alienated the Uighurs. They say Han people have flooded Xinjiang and benefited from its economic growth while Uighurs have felt excluded.
China has smothered Xinjiang with additional security and imposed additional restrictions on Uighur travel rights, culture and religious practices. That, say Uighur activists, is exacerbating the resentments driving the violence.
"The Urumqi explosion again proves that forceful repression is not a solution to the problem," said Dilxat Raxit, a spokesman for the World Uyghur Congress based in Germany.
During his visit, Xi urged government officials to maintain social stability, promote growth, improve living standards and strengthen ethnic unity, according to state media reports.
"Local police stations are the fists and the daggers. We must work hard at the grass-roots level of the police stations," Xi said. "We must take care of our front-line offices. You need to protect yourselves and make achievements at tasks such as better serving the people in the future and safeguarding social stability."
Thum said Xi's description of local police as fists and daggers also fit "many Uyghurs' views of the police."
Xi told officials that the long-term stability of Xinjiang is vital to the whole country's reform, development and stability, Xinhua reported.