At least 21 dead in Syria air raid as splits among rebels block peace efforts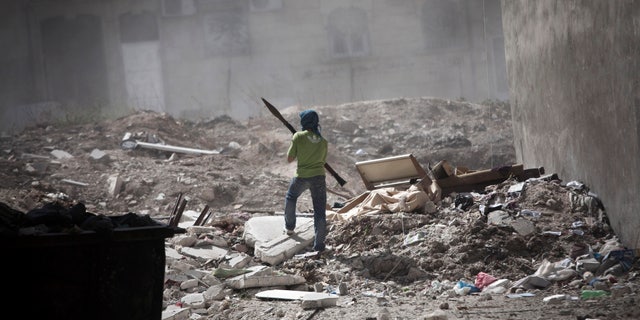 DAMASCUS, Syria – The large number of deeply divided rebel groups is one of the main obstacles to a U.N. mission's efforts to broker an end to Syria's 18-month crisis, the Damascus representative of the new international envoy said Monday. Activists reported an air raid on a northern town killed at least 21 people.
Mokhtar Lamani, who represents special envoy Lakhdar Brahimi in the Syrian capital, told The Associated Press in an interview that a solution to the country's crisis remains very difficult because of the "high level of mistrust between all parties." Most opposition groups say they will accept nothing less than President Bashar Assad's departure from power, while the regime says its opponents are working as part of a foreign conspiracy.
His comments came as activists reported violence across the country, with the heaviest fighting in the northern city of Aleppo, where rebels recently launched a new offensive to capture the country's commercial capital. Activists also reported that government warplanes bombed the northern town of Salqin, killing at least 21 people including five children.
The Local Coordination Committees, another activist group, put the death toll at 30. The town is 4 miles from the border with Turkey in Idlib province, which has seen intense clashes between government troops and rebels in recent months.
Footage posted online by activists shows several mutilated bodies in a pickup truck as a man shouts that his son was killed. The video's authenticity could not be independently verified.
Brahimi, a veteran Algerian diplomat who previously served as a U.N. envoy to Afghanistan and Iraq, waded into Syria's complicated diplomatic landscape last month when he replaced Kofi Annan, the former U.N. chief whose peace plan for Syria failed to end the violence that activists say has so far killed more than 30,000 people.
Lamani said Brahimi, who visited Damascus last month, will pay a second visit to Syria soon and will tour the country. Asked whether he still sees hope of a political solution in Syria despite all the bloodshed, Lamani said: "I think maybe the time will be too long, but I hope (so) ... and this is what I am here for because I hope that in the end there would be some light."
The uprising against Assad that erupted in March last year began with anti-government protests but has gradually morphed into a bloody civil war that has spread across the country. Since then, rebels have taken over patches of territory, mostly near the northern border with Turkey.
Lamani noted that he had recently made visits to the central province of Homs and the southern province of Daraa, adding that he met representatives of armed groups in the town of Rastan, a rebel stronghold in Homs that was among the first areas to take up arms against Assad's regime. He did not provide any details of his meetings.
He said that some of the main obstacles to brokering a resolution to the conflict are divisions among rebels and opposition groups. Syria has large numbers of such groups inside and outside the country, and relations among them have been dogged by infighting and accusations of treachery. The rebels include army defectors and gunmen who work under the rag-tag Free Syrian Army.
Despite months spent trying to cobble together a common front, attempts to unite the opposition have so far failed.
"There are so many opposition parties inside and outside Syria in addition to the armed groups," Lamani said in Damascus. "This is a little bit very dangerous and complicating our mission because of this kind of fragmentation."