At least 2 Mexicans wounded in Egypt attack are dual American citizens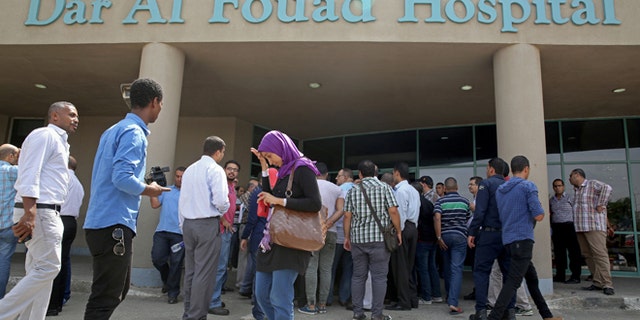 At least two Mexican tourists wounded Monday when Egyptian forces mistakenly fired upon a group during a desert safari are dual American citizens, the Dar al-Fouad hospital said. A total of 10 people were injured and 12 were killed.
Mexican Foreign Secretary Claudia Ruiz Massieu says the tourists were subject to an aerial attack.
Egyptian authorities say the four-car convoy entered a restricted area of the desert without permission while the army and police were chasing militants who were in SUVs similar to those used by the tourists.
Mexican President Enrique Pena Nieto is condemning the deaths and demanding a thorough investigation. Mexico's Embassy in Cairo says it's canceling Tuesday's Independence Day celebration in the Egyptian capital.
Ibrahim Mehleb, Egypt's acting prime minister, has visited several of the injured Mexican citizens.
"We are standing next to the Mexican people in their tragedy. The circumstances surrounding the incident are part of Egypt's fight against terrorism. The Mexican side is receiving the best care and we will take care of the Egyptian victims," Mehleb said after his visit. "I give my deepest condolences to the Egyptian people and our guest the Mexicans, and I have spoken to the Mexican ambassador and relayed my condolences."
Foreign Minister Sameh Shoukry says the Interior Ministry is investigating the incident, adding the Egyptian government will extend all possible assistance, including medical treatment for the injured and transporting the bodies of the dead back to their home country.
Egypt's western desert is popular among safari enthusiasts and has not been known for militant or insurgent activity.
Cairo has been battling an Islamic insurgency in the Sinai Peninsula for years. Attacks targeting army and police spread to the mainland following the July 2013 military ousting of Islamist President Mohammed Morsi.
The Associated Press contributed to this report.