Asterix author earns monument in ancestral Warsaw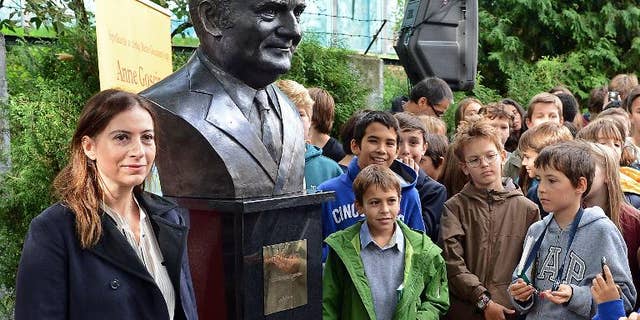 Warsaw (AFP) – The daughter of Rene Goscinny on Wednesday unveiled a bronze bust of the late French co-creator of hyper popular comic book Asterix in his ancestral Warsaw.
"Papa, allow me to address you from this Poland that you never saw. I'm sure you're not far away," Anne Goscinny said at the ceremony alongside the bust bearing her father's characteristic dimples and smile.
The statue stands in the courtyard of the Polish capital's sole French school, which bears his name. Its students crowded around the bust flashing grins and holding up his books.
Writer Goscinny and illustrator Albert Uderzo created the adventures of Asterix, a diminutive moustachioed warrior battling the Roman occupation of his native Gaul, or ancient France.
The humourous pun-filled series is brimming with fist-fights, drunken arguments, heroic rescues and romantic interludes.
After Goscinny's death in 1977 at age 51, Uderzo carried on alone. The ongoing series has been translated into over 100 languages, with more than 350 million copies sold.
"The name Goscinny means 'hospitable', 'welcoming' in Polish. This reference happily sheds light on this endearing person," French ambassador to Warsaw Pierre Buhler said at the ceremony.
Goscinny was born in Paris to Jewish parents from Warsaw who emigrated in the 1920s, escaping the fate of relatives killed in the Holocaust.
Polish publisher Znak spearheaded the bust initiative, timing the unveiling with a Polish release of Anne Goscinny's memoirs of her father.
It also released a Polish audiobook and e-book versions of Little Nicholas, another series written by Goscinny, who also did the text for the Lucky Luke cowboy comic strip.
The 35th book in the Asterix series, "Asterix and the Picts", hits bookstores on October 24.