Assange Trying to Draw Attention Away from Sex Case, US Says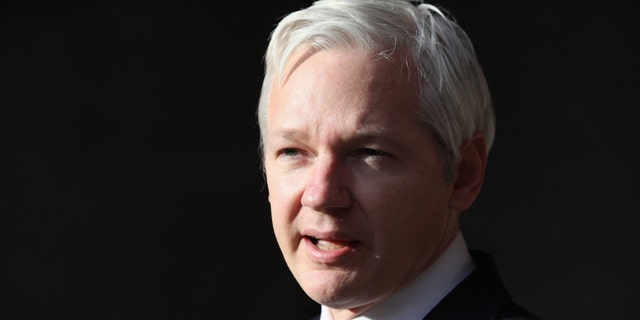 WikiLeaks founder Julian Assange is making "wild assertions" to try and draw attention away from sex allegations he faces in Sweden, the Obama administration said Monday.
The State Department said Assange's case has nothing to do with the United States or WikiLeaks publication of secret U.S. documents and is solely a matter for Britain, where he is now holed up in the Ecuadorian embassy, as well as Sweden and Ecuador.
Spokeswoman Victoria Nuland also berated Ecuador for granting Assange asylum from possible U.S. persecution at its embassy in London. And she said Ecuador's attempt to have the Organization of American States take up the matter was a "sideshow."
Assange "is making all sorts of wild assertions about us, when, in fact, his issue with the government of the United Kingdom has to do with whether he is going to face justice in Sweden for something that has nothing to do with Wikileaks," Nuland told reporters.
"He is clearly trying to deflect attention away from the real issue, which is whether he is going to face justice in Sweden," she said. "That case has nothing to do with us, it's a matter between the U.K., Sweden and now Ecuador has inserted itself."
In a speech from the Ecuadorian embassy on Sunday, Assange proclaimed himself the victim of an American "witch hunt" that he urged President Barack Obama to renounce.
"The United States must vow that it will not seek to prosecute our staff or our supporters," Assange said, referring specifically to Pfc. Bradley Manning, who awaits trial in the scandal. He said the U.S. risks "dragging us all into a dark, repressive world in which journalists live under fear of prosecution."
He made no mention of the sex case, for which he faces extradition to answer questions about allegations he assaulted two women. Assange and his supporters claim the Swedish case is the first move of a Washington-orchestrated plot to make him stand trial in the U.S. The U.S. and Sweden dispute this.
Assange took refuge in Ecuador's embassy in London two months ago and was last week granted diplomatic asylum by Ecuadorian President Rafael Correa. Assange praised Ecuador on Sunday as "a courageous Latin American nation (that) took a stand for justice" by offering him sanctuary.
Inside the embassy, Assange is out of reach of British authorities although Britain insists that if he steps outside, he will be detained and sent to Sweden.
After Britain appeared to suggest it could invoke a little-known law to strip the embassy of diplomatic privileges — meaning police would be free to move in and detain Assange — Ecuador protested and sought support from the Organization of American States.
The U.S., along with a small number of other OAS members, opposed involving the hemispheric bloc in the situation. On Monday, Nuland said that Ecuador was "trying to gin up trouble" in the OAS with the move.
"We don't see a role for the OAS in hypothetical situation that doesn't appear to be imminent anyway," she said. "We have very important business that we do in the OAS that has to do with the strength and health of democracy in the region and this is, frankly, a sideshow."
Based on reporting by the Associated Press.
Follow us on twitter.com/foxnewslatino
Like us at facebook.com/foxnewslatino